Premier League: Newcastle's Tim Krul prepares to face Everton specialist Leighton Baines
Newcastle goalkeeper Tim Krul has admitted to extra work on the training ground as he prepares to face Leighton Baines.
Last Updated: 30/09/13 7:29pm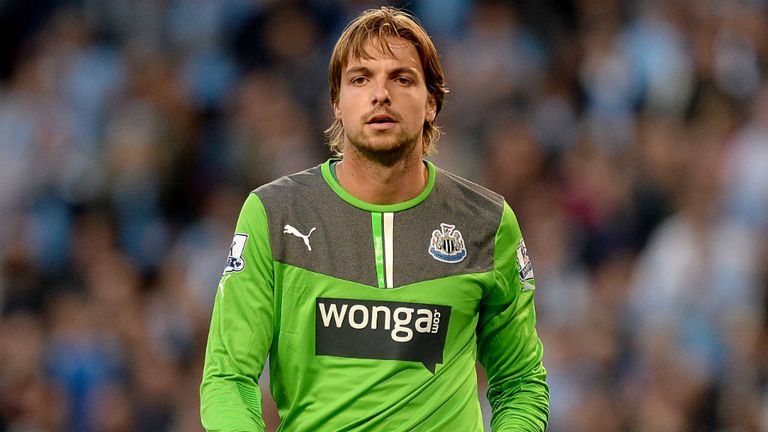 Baines has been in fine form for the unbeaten Toffees, scoring two set-pieces in last weekend's 3-2 win over West Ham.
And after being beaten by one of the full-back's specials last season, Krul revealed he has called upon team-mate Hatem Ben Arfa to ensure he goes into Monday night's contest - live on Sky Sports - in the best shape possible.
"(Baines) also scored against me last year so I'm well aware of what he can do," Krul was quoted as telling the Mirror. "He showed with that strike from 30 yards and he showed it again against West Ham.
"He's definitely one of those players who you think, when you see him come up to take a free-kick, I've got to be at my best here.
"He's up there as one of the best free-kick takers in the league. It's not just one side of the goal he can go for, it's both sides.
"There's nothing you can do in training, really, to prepare. You can just hope he doesn't hit it as well as last week against West Ham. But I have asked Ben Arfa to take a few free-kicks against me this week."
Newcastle have made a topsy-turvy start to the season but after responding to defeat against Hull with victory over Leeds in the Capital One Cup, Krul wants a return to the top half of the Premier League.
"The manager was annoyed after the Hull game and rightly so," the Dutchman added.
"These are the games we have to win. It was very disappointing. We were leading twice. But we gave the goals away too cheaply.
"We have to take it on the chin but we responded well against Leeds. We had a bad season last season but now we can kick on and show everyone we are a top-half team."
Watch Everton v Newcastle live on Sky Sports 1 HD from 7pm.