Alan Pardew delighted that Newcastle's French contingent made it to the World Cup
Newcastle boss Alan Pardew has hailed the role a number of his squad played in France's World Cup qualification.
Last Updated: 22/11/13 10:54am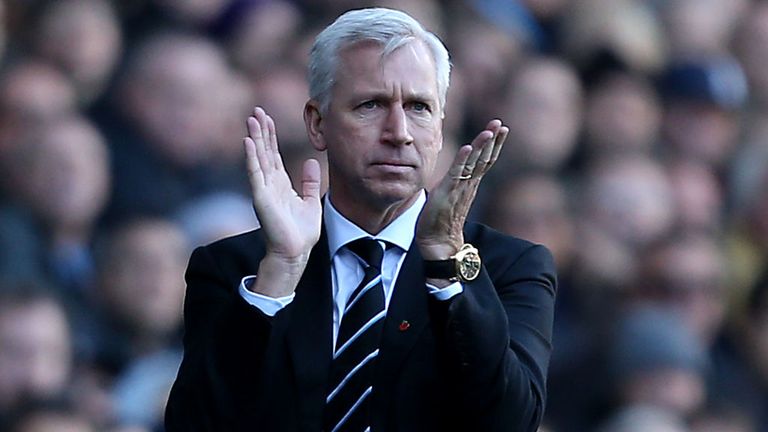 Yohan Cabaye and Mathieu Debuchy played starring roles in France's 3-0 win over Ukraine on Tuesday, whilst Loic Remy and Moussa Sissoko were on the bench.
Hatem Ben Arfa, Mapou Yanga-Mbiwa and Yoan Gouffran will also be hoping to push their claims for selection in the coming months.
And Pardew is delighted as he thinks the French qualification will be a major boost to his French legion.
"The French result is going to be significant because it's going to have some impact," said Pardew.
"Long term, towards the end of the season, when you get players who are desperate to get in that squad, that's going to have an impact on this team. Is it going to have an impact? For sure, but in a positive way.
"We've been very fortunate in this international break because all of our teams have done well, except for Papiss Cisse. We couldn't have asked for any more attendance in terms of what we have."
French fancy
Pardew insists the French management will be taking a keen interest in Newcastle's fortunes in the coming week.
"I certainly think the French manager will come to our games because we are carrying a big part of his squad and therefore we're a very important side for France, for sure," Pardew said.
"But we have done a fantastic pre-season and the guys who prepared the team did so with our players who could go to the World Cup in mind.
"That's a conversation we had with them in the summer. We said, 'you're going to have the toughest pre-season we've ever had because you've got a World Cup at the end of it and you all want to be at your best'. We've probably got a team in the best condition I've ever had.
"I like to think we have a good relationship with France, I hope they trust what we are doing with their players.
"Yohan Cabaye, I think they called him 'Le Petit Prince' after the game because of what he did. It shows our valuation of him in the summer is justified. I went to see Portugal and Sweden and he is way above them.
"He is an important player for France. He sat in front of their back four and pulled the strings and the tempo of their game was very much what Cabaye does for us. I think he has an important role for France in the World Cup.
"I think it's important we both know what we're doing, especially when our players are away. We've been very keen to have a dialogue with them about what our players are doing.
"We want to have a good idea of the work they need to do when they come back to us. We have suddenly emerged as a very important part of the French group. You'd like to think Mapou has a chance, Debuchy has got himself in front of (Bacary) Sagna at the moment.
"Cabaye is in the team, Loic Remy has come into the reckoning. Moussa has come on in the Ukraine game and we've still got Gouffran who could threaten. We're very important to the French here."