Premier League: Alan Pardew says team spirit is key to Newcastle's strong form
Newcastle manager Alan Pardew is determined to continue rewarding the club's fans by maintaining their form.
Last Updated: 26/11/13 2:21pm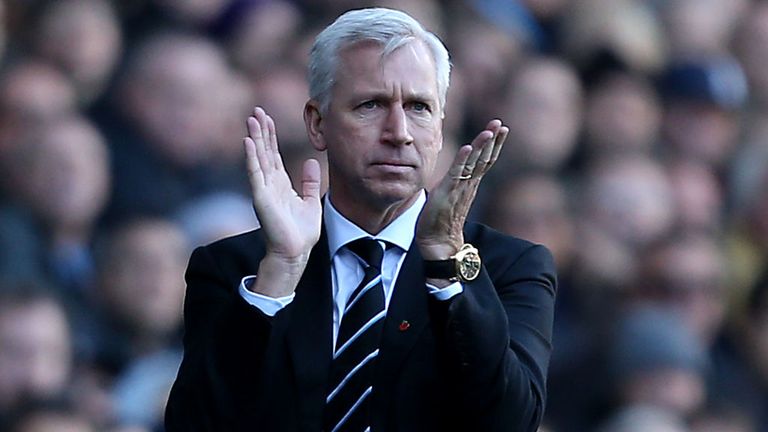 Pardew's side have won their last three matches, which has seen them climb to eighth in the table.
In November, Newcastle have recorded victories over title hopefuls Tottenham and Chelsea as well as beating Norwich 2-1 last weekend.
Newcastle face West Brom at home this weekend and could even move up to fourth in the table - if the sides above them were to lose.
Looking ahead to the clash on Saturday, Pardew told Sky Sports News: "It will be a tough game but we are in great form and we are in our own harmony at the moment."
"Let's hope we keep it that way. If we can get a result we are going to be in a great position. Our fans deserve it because I think they are the greatest in the world and we are starting to reward them for the loyalty they've shown us. There were 51,000 again on Saturday and hopefully this week as well."
Goalkeeper Tim Krul has been a central figure in the revival of Newcastle's form, and received widespread praise for his performance in their 1-0 victory over Tottenham.
Krul suggested that the victories over teams in the bottom half of the table, such as Norwich, are as important as wins over top sides such as Chelsea and Tottenham as they look to maintain their momentum in the league.
Spirit
And he expects another tough challenge when they face 10th-placed West Brom on Saturday.
"They are a hard team to beat," he said. "We always find it difficult against West Brom but I think the confidence is sky high at the moment. A lot of home games so I am looking forward to it.
"The spirit is back and the belief that we can beat anybody is the most important thing, especially at home.
"So that is why I am really happy we got a result against Norwich at the weekend because over the last couple of years maybe we have slipped up in those types of games.