Premier League: Mike Williamson is the happiest he's ever been at Newcastle
Mike Williamson has described his last few months as "the most enjoyable of all" since he joined Newcastle in 2010.
Last Updated: 10/12/13 12:57pm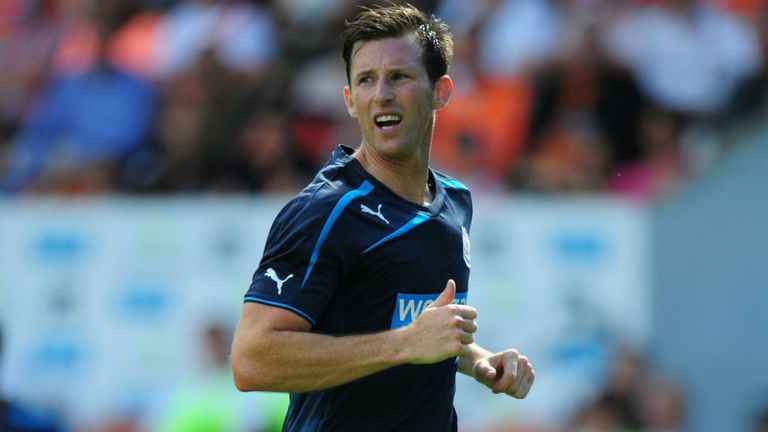 The former Portsmouth defender has been ever-present in all but one of the Magpies' games since coming on as a substitute at half-time against Everton in September.
They were 3-0 down then, but a spirited second half performance saw them pull two goals back to lose 3-2 at Goodison Park.
The 30-year-old has since been involved in famous victories against Chelsea, Spurs and Manchester United, keeping clean sheets in all of them.
Williamson was told by Alan Pardew he could leave this summer, but he wanted to stay and fight for his place, and is pleased with his decision.
He told The Northern Echo: "A chance came along for me at Everton, and hopefully people feel as though I've taken it the best I could.
"I think the manager knows what he's going to get from me - I defend first and try to keep things tight and organised. That's what I'm about.
"Hopefully it's becoming difficult to drop me because we're winning and defending fairly well.
"I've had some good times here, but the last few months have probably been the most enjoyable of all.
"We've beaten Chelsea, Tottenham and Manchester United now, and they're all stand-out victories. Personally, it's just fantastic to be getting the minutes under my belt that I am. Whoever we're playing against, it's still a great honour for me to be playing at this level."
Williamson featured heavily at the end of the 2011-12 season which saw Newcastle finish fifth and qualify for the Europa League.
The Magpies currently sit in seventh in the Premier League, two points off fifth placed Everton, and Williamson sees no reason why they cannot finish there again.
He said: "Because of the way the rest of the Premier League is going, I think there's a genuine sense that no one really knows what might be possible this year.
"Our form at the moment is right up there with anyone. We know the talent that we've got in the squad.
"You look around our squad and it's packed with individual talent, but you have to blend that with hard work, and that's what we're doing so well just now.
"We're focusing on getting the basics right, and that's paying dividends. We've got fantastic flair in the team and on the bench, but that only gets you so far if you're not focused and concentrated for the whole 90 minutes.
"Sometimes, you have to be committed and put your body on the line, and I think you saw that against Manchester United."