Premier League: Newcastle boss Alan Pardew puzzled by decision to disallow Cheick Tiote's goal
Alan Pardew admitted that he could not understand why Cheick Tiote's goal had been disallowed against Manchester City.
Last Updated: 13/01/14 7:28am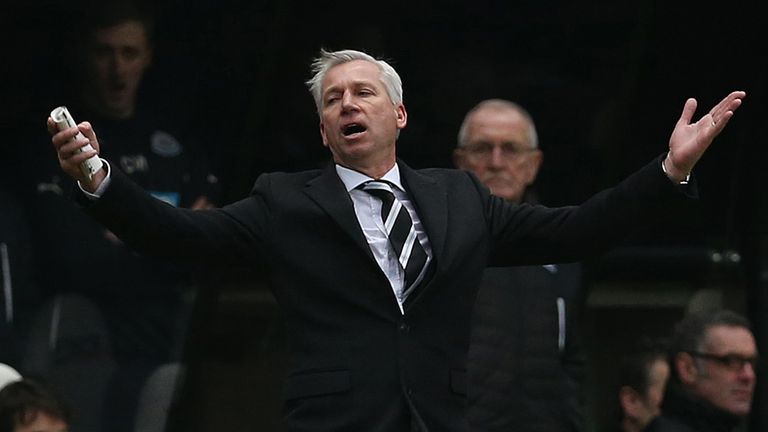 The Magpies were trailing to Edin Dzeko's early strike when they thought they had equalised thanks to Tiote's wonderful effort from the edge of the area into the top corner.
Yoan Gouffran was standing in an offside position and referee Mike Jones, after checking with his assistant, decided that the goal should not stand.
However, Pardew did not feel that the presence of Gouffran made any difference and tracked down Jones after the match to discuss the decision.
He was not satisfied with the answers he received, telling Sky Sports: "For me, this is an entertainment business. The guy's hit a goal that Joe Hart is just not going to save. It goes through a number of bodies but his vision is not impaired.
"I don't think he was clear in his answers about Joe Hart being impaired - I couldn't work that out.
"I don't understand it. Even if Man City's back four is on the edge of the box and we've got four offside, it's such a clean hit, it's going in the top corner.
"He's got that wrong and unfortunately that was a massive call. In these type of games they have got to go your way.
"It was probably easier for him to give the goal and I can't understand why he hasn't.
"We're crying out for entertainment, you hit a goal like that and the place is in uproar, and he's gone on a real tiny technicality, which I think is wrong."
The controversy raised the temperature at St James' Park for the remainder of the contest, with Newcastle pushing hard for an equaliser before Alvaro Negredo struck in added time to finally put the result to bed.
Pardew's angry touchline confrontation with City boss Manuel Pellegrini did nothing to calm the mood in the stands, with the Newcastle manager appearing to aim a foul-mouthed volley at the Chilean as they squared up.
"I apologise for that," Pardew added. "But he had words with me first and it was just normal for managers that go unseen most of the time.
"We're fine, I shook his hand at the end and I'll see him before I go."