Mike Jones will not referee in the Premier League this weekend.
Mike Jones will not referee in the Premier League this weekend.
Last Updated: 18/01/14 3:43pm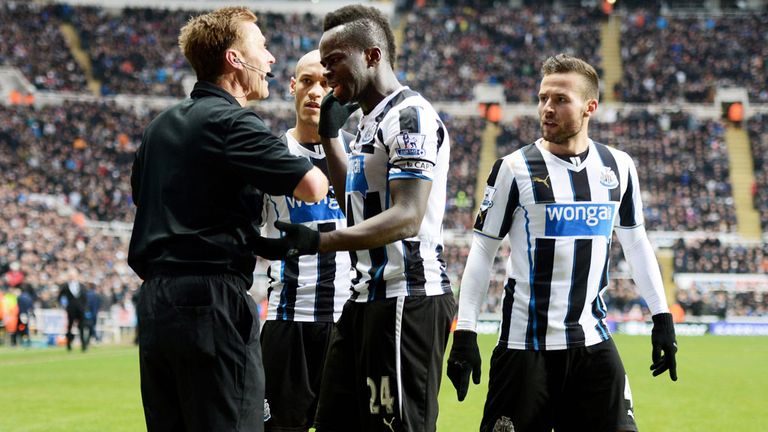 The Chester official came under scrutiny after he enraged Newcastle boss Alan Pardew by ruling out Cheick Tiote's equaliser due to a contentious offside call.
City manager Manuel Pellegrini also gave a scathing assessment of the referee, who is only named as the fourth official at Saturday's game between Sunderland and Southampton.
Jones consulted with his assistant Ron Ganfield and decided that the offside Yoan Gouffran was interfering with play, but Pardew was far from satisfied with his explanation.
Speaking after the game, he said: "I don't think he was clear in his answers about Joe Hart being impaired - I couldn't work that out.
"I don't understand it. Even if Man City's back four is on the edge of the box and we've got four offside, it's such a clean hit, it's going in the top corner.
"He's got that wrong and unfortunately that was a massive call. In these type of games they have got to go your way.
"It was probably easier for him to give the goal and I can't understand why he hasn't."
Jones received further criticism for his decision to only book Mapou Yanga-Mbiwa, who left Samir Nasri with knee ligament damage after a crude second-half challenge.
"The kick he made to Nasri was absolutely a red card directly," said Pellegrini.
"We did not have any help from the referee today. He didn't give a goal because it was absolutely offside, that is the only clear thing about which Newcastle can complain - but it was offside.
"Nasri has I think a serious injury to his knee, we will see tomorrow. I repeat it was a direct red card."