Mapou Yanga-Mbiwa sorry for tackle on Manchester City's Samir Nasri
Mapou Yanga-Mbiwa regrets his tackle on Samir Nasri that resulted in a two-month lay-off for the Manchester City player.
By Patrick Haond
Last Updated: 14/01/14 5:37pm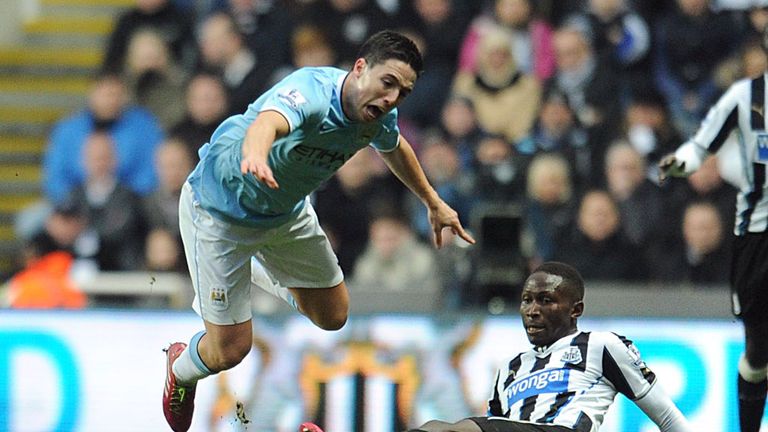 Nasri was carried off on a stretcher following the challenge by the Newcastle defender during City's 2-0 win on Tyneside on Sunday, and 24 hours later he revealed that the medial ligament damage would put him out of action for eight weeks.
Yanga-Mbiwa told L'Equipe he tried to apologise to his international team-mate immediately following the game at St James' Park.
"I was waiting to meet him in front of the changing-room door but he got treatment," said Yanga-Mbiwa. "Then, I immediately tried to get his phone number. I called him several times but he never answered.
"I left a message, I tried again on Monday but I failed to talk to him. I will try again because I want to apologise personally. I was so sorry."
Yanga-Mbiwa was booked for the challenge on Nasri, who was taken off after around five minutes' treatment on the pitch.
"I just wanted to prevent him from going ahead, make him fall," Yanga-Mbiwa added. "He stayed upright on the first tackle, but fell on the second one.
"But I clearly didn't want to hurt him or be violent with such a gesture. I wanted to trip him up, there was no nastiness."
Initial speculation that Nasri could be ruled out of the World Cup in Brazil this summer was calmed when the City player took to Twitter to reveal the true extent of his injury, which came as relief to the Newcastle defender.
He continued: "I finally heard it should be a two-month absence and I was relieved. When I heard it could be broken knee ligaments and it could imperil his World Cup, I felt really bad."