Premier League: Newcastle manager Alan Pardew will focus on first-team matters
Newcastle manager Alan Pardew says that he will continue to focus on winning first-team games at the club.
Last Updated: 07/02/14 10:43am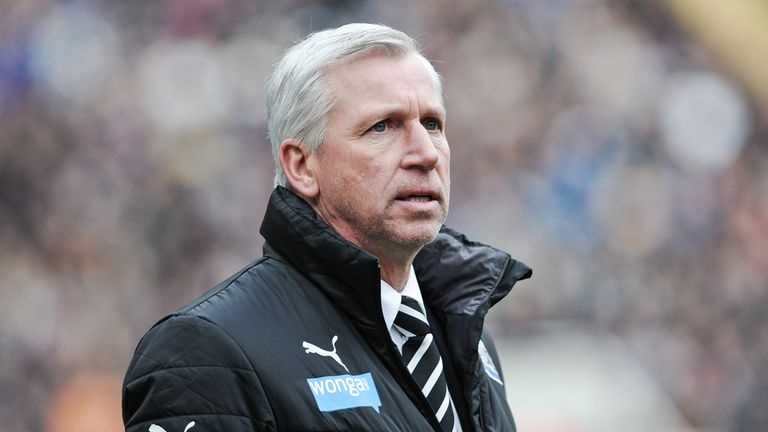 It's been a turbulent few days at St James' Park with Joe Kinnear's exit as director of football coming just 48 hours after Pardew's side were beaten 3-0 at home by local rivals Sunderland in the Premier League.
And speaking for the first time since Kinnear's departure, Pardew admitted that it had been an emotional week.
Pardew said: "If you get punched on the nose in a boxing ring, you don't just walk back to your corner and say that's it and walk away.
"This is a job where you need to be purposeful and you have to stay strong. It is very difficult to win trophies at this football club and therefore a lot of the time you're dealing with bad news and losing players.
"But you have to keep your focus on what is important and the most important part of my job is winning first-team games. Forget about anything else."
Asked about Kinnear being fired, Pardew said he was 'surprised' at the timing of the announcement.
Pardew added: "I was surprised the decision was made at that time but it wasn't my decision. No, I've not spoken to him since but I'm sure I will do.
"I am sorry to see anyone lose their job. He did a lot of good work here but it was the board's decision and I have to work towards getting our position in the league more secure.
"There's so much involved in transfers in terms of the other club, agents, preparations and the finances involved that it goes away from what we did 10 years ago.
"From a league point of view, it is important that I try and drive us towards the best finish I can."
Newcastle travel to Chelsea on Saturday in the Premier League.