Alan Pardew says Newcastle should improve now key players are set to return
Newcastle manager Alan Pardew insists he can cope with the mounting pressure he is under due to a run of poor form.
Last Updated: 23/02/14 1:25pm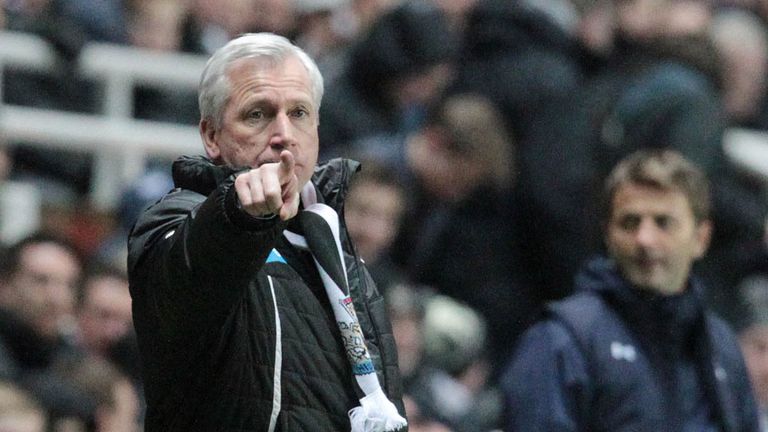 The Magpies have lost their last three Premier League games and, although the club was quick to dismiss rumours that Pardew will be fired if they lose to Aston Villa on Sunday, further poor results will inevitably lead to speculation about his future.
However, speaking ahead of Villa's visit, Pardew says pressure is part of the job and that the return of key players from injury and suspension will help his cause.
"Some stories have no foundation and they are printed anyway and we have to deal with that as players and as managers," he said. "It happens in football.
"Anybody involved in the Premier League, we are big news, so that comes with the territory.
"When you lose four or five home games at Newcastle, you are under pressure, and I don't hide from that.
"Every three months at this club, there has been a period of pressure. I don't see it as any greater than it was last year when we went to QPR, for example.
"Maybe the year before, we had a year where it all didn't really build into any pressure. We lost games, but we managed to bounce back quickly.
"But the pressure comes sometimes from scenarios that you are faced with, and we have lost some key players in this period.
"You take (Yohan) Cabaye, (Fabricio) Coloccini, (Loic) Remy and Cheick Tiote out of my team and it isn't going to help me win games. But, when they are back, it strengthens my hand and hopefully we get the result we want."
Big names set to return
Cabaye has been sold to Paris Saint Germain but Coloccini and Tiote could return from injury this weekend, with Pardew set to make late decisions on the duo.
And Loic Remy, who has just learned he will not face further action over a rape allegation, will be back to boost Newcastle's attack, having served a three-match ban.
"The court case that he was involved in is now over and I think that's been a big relief to him and his family," said Pardew.
"I think he is actually in better shape than he has been all year.
"We have lacked a real goal threat since he has been gone. You take someone who has been in red-hot form out of the team and it's difficult. But he is back and he definitely looks sharp."
Boss calls for home improvements
Pardew is determined his side will produce an improved display, adding: "It's what our city breathes for and works so hard for, to watch their team on a Saturday or Sunday and for us to give a performance that the fans can be proud of.
"We didn't do that, certainly in the last two or three home games, and we need to do that, we need to put a performance in."
Full-back Mathieu Debuchy has been linked with a move away in the summer but Pardew said: "As far as I'm concerned, he's a player who is going to be here.
"We are looking to change and strengthen in a lot of positions next year, but that won't be one of them."