Alan Pardew told to 'lead by example' after David Meyler headbutt
A Newcastle fanzine editor has urged Alan Pardew to 'lead by example' after he allegedly headbutted David Meyler.
Last Updated: 03/03/14 11:38am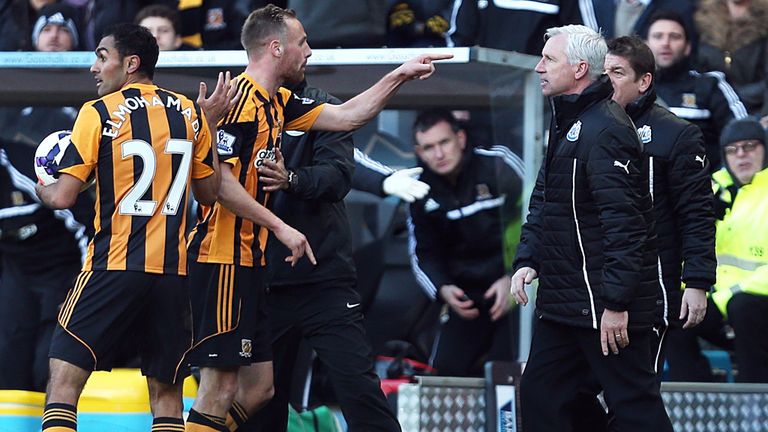 Pardew appears certain to be charged by the Football Association after he clashed with Hull City's Meyler during Newcastle's 4-1 win at the KC Stadium on Saturday.
The incident took the shine off an impressive display from the Magpies and Mark Jensen, editor of an online fanzine, believes Pardew puts himself in the spotlight with his pitch side behaviour.
"Pardew does seem to stand on the touchline for virtually the whole match," he said.
"Some people say he loves being the centre of attention. I don't know if that's true or whether he just wants to have the best view of the game.
"But whatever it is, you look to the manager to lead by example and when you have fans running on the pitch, like one did during the Sunderland game and he ends up in court and fined, it does leave the club open to criticism.
"For me, the saddest thing is Newcastle played better than they have for about two months, but naturally all anybody wants to talk about is that incident."
Pardew was sent to the stands by match referee Kevin Friend, whose report is likely to be considered by disciplinary chiefs on Monday.
Newcastle have already fined him £100,000 and the 52-year-old could be facing a lengthy ban and a heavy fine as his touchline antics have landed him in trouble in the past.
Sky sources understand Pardew will not face any further action from the club but Magpies legend Alan Shearer said it would be 'very difficult' for Pardew to keep his job at St James' Park.
League Managers Association chief Richard Bevan also believes the headbutt to be "unacceptable and inappropriate".
"The buck stops with Alan," he said. "It's unacceptable, it's inappropriate and it's insupportable from every perspective and Alan knows that.
"He immediately realised the serious error, (made) sincere apologies to all parties and obviously (has) deep regret.
"It was good to see (Hull boss) Steve Bruce's reaction and Hull accepting (Pardew's apology).
"But Alan does need to think hard about how not to put himself in that position again."
"I was pleased to see Newcastle in a very short period of time making a very swift, professional response that provided Alan with a very heavy fine and a formal warning."
Bevan also confirmed the LMA was reviewing the positioning of the technical area and could move managers further away from the action.
He said: "We did a technical report six or seven months ago, interviewing 40 referees and 40 managers, and we're looking at the moment how the technical area works in America, for example, in other sports and seeing how we can look to improve several problems that occur because of the positioning."
Bevan admitted the tight confines of some grounds would pose a problem, with the manager also needing to be kept out of the fans.
He added: "But what we can do is make a serious effort to look at how the technical area should be placed."
A statement on the club's official website on Saturday evening read: "Newcastle United are disappointed with the actions of its manager Alan Pardew this afternoon.
"His behaviour was unacceptable and is not the behaviour we expect from the manager of Newcastle United.
"It is most disappointing that this incident has taken the focus away from what was a fantastic performance by the team and an excellent result away from home which leaves the club in eighth place in the Barclays Premier League.
"Sadly, the headlines tomorrow will not be focused on the result or the efforts of the players, but instead on the actions of our manager.
"Alan unreservedly apologised immediately following the game to the player, to Hull City Football Club and its fans, and to the fans of Newcastle United.
"We have held discussions this evening with Alan who has offered his sincere apologies to the club and it is clear he deeply regrets his actions.
"Alan has accepted a formal warning from the club in relation to his behaviour today and also a club fine of £100,000.
"The club is now drawing a line under this matter and will be making no further comment."