The Football Association charges Alan Pardew with improper conduct
The Football Association has charged Alan Pardew with improper conduct.
Last Updated: 07/03/14 2:23pm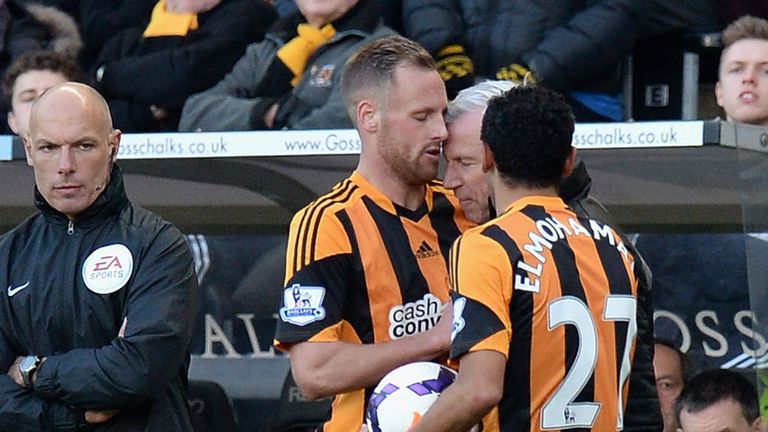 Pardew appeared to headbutt Hull's David Meyler during a touchline altercation in the second half of Newcastle's 4-1 win at the KC Stadium.
Pardew was universally condemned for his behaviour and the FA has now confirmed a charge of improper conduct.
In a statement the FA said: "Newcastle United manager Alan Pardew has been charged in relation to an incident in his side's game against Hull City on 1 March 2014.
"It is alleged that in the 72nd minute of the fixture, Pardew was involved in an incident with a Hull City player that amounted to improper conduct.
"Due to the serious violent and/or aggressive nature of the reported behaviour this case has been designated as non-standard.
"Pardew has until 6pm on Thursday 6 March 2014 to respond to the charge."
Designating the alleged offence as "non-standard" means there is no real precedent and that it cannot be treated in the same way as other more common disciplinary matters.
Pardew was fined £100,000 by his club on Saturday night, just hours after the incident, but no criminal proceedings will take place, no complaint having been received from Meyler or Hull.
Chief Inspector Rich Kirven of Humberside police said: "We have been working with the FA and the football club to progress the matter appropriately.
"Having reviewed the circumstances of the incident, it has been agreed that the matter will be dealt with by the FA rather than considering any criminal proceedings.
"There has been no complaint received from the player involved or Hull City Association Football Club at this time.
"Whilst we appreciate that some people may have found the behaviour displayed at the game on Saturday offensive, Humberside Police will not be taking any further action."
Referee Kevin Friend sent Pardew to the stands after the fracas, which occurred after Meyler had collided with the Newcastle boss while chasing a ball which had run out of play.
'Unacceptable'
Newcastle acted swiftly to sanction their manager, issuing a formal warning on Saturday night on top of the heavy fine handed out.
"His behaviour was unacceptable and is not the behaviour we expect from the manager of Newcastle United," a club statement read.
"We have held discussions this evening with Alan who has offered his sincere apologies to the club and it is clear he deeply regrets his actions.
"Alan has accepted a formal warning from the club in relation to his behaviour today and also a club fine of £100,000."
Pardew had offered an immediate apology in the wake of the incident, but now looks set to face a heavy sanction from the game's governing body.
He told Sky Sports after Saturday's match: "It was just a heat of the moment thing. Obviously I massively regret it.
"I didn't mean to do anything aggressive, but I did move my head forward and that's enough.
"He was right on top of me and I wanted to just ease him away from me but obviously I put my head in a forward motion.
"I want to apologise to him, everyone at Hull and obviously my own fans as well.
"Of course, I'm not stupid enough to accept there's going to be no punishment. I'll have to accept whatever comes my way."
Meanwhile, Sky Sports pundit Alan Smith believes Pardew has sent out 'an awful message' to his players after his clash with Meyler.
The former Arsenal and England striker told Sky Sports News: "If he's behaving in that fashion how can he turn around and tell his players to toe the line on the pitch?
"It sends out an awful message and strangely he wasn't that sort of player. He never got involved in those things. So he's saved it all up until he became a manager.
"In the future he's got to keep himself out of these situations."