Premier League: Roberto Martinez admits sympathy for Alan Pardew
Everton boss Roberto Martinez believes Alan Pardew will be feeling the effects of his touchline ban more than his team.
Last Updated: 25/03/14 7:36pm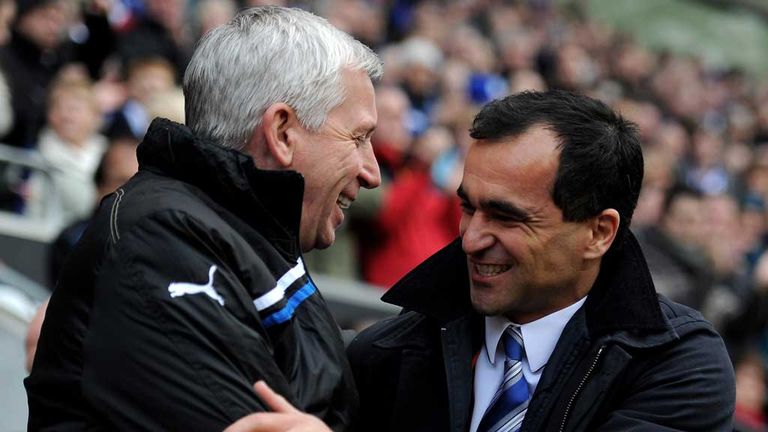 Martinez will miss the chance to face Pardew on Tuesday night when he takes his side to St James' Park, with his rival manager serving the final game of his stadium ban for head-butting Hull City midfielder David Meyler, although he still has a further touchline suspension to serve.
Pardew will be watching from a distance on a television feed as his side look to add to their last-gasp 1-0 win over Crystal Palace on Saturday.
"It must be difficult. I cannot even think how you can cope with that frustration of not being able to help the team and trying to read the game from the sideline," said Martinez.
"That is when you have to rely on your team and your staff and Newcastle have done a great job so far, which shows the quality they have as all the work they have done previously is counting now they are manager-free.
"It is important for a manager to be there. I can only imagine being banned from the stadium is as big a punishment as you can get as a manager because you can't really help your team.
"That must be a frustrating feeling having done all the work during the week to prepare your team."
Martinez is one of the calmer managers in the Premier League and, although he feels that is the better way to go, he sees no problem in other managers showing their passion.
"Every manager brings his own genetics into that," he added.
"There are managers who want to be just as composed as they can so you can make good decisions by trying to help the players and reading the game.
"Others are more emotional so it is not a general rule. It is important, if you want to help the players, you need to be emotion-free to make the right calls.
"At Everton it is about allowing the players to enjoy the game and their talent. As a manager it is important you need to be able to give the team instructions in games that are very tactical."