Premier League: 'I'm keen to put demons right,' says Andre Marriner
Under-fire Andre Marriner says he will put right his mistake in Southampton's clash with Newcastle on Saturday.
Last Updated: 29/03/14 3:26pm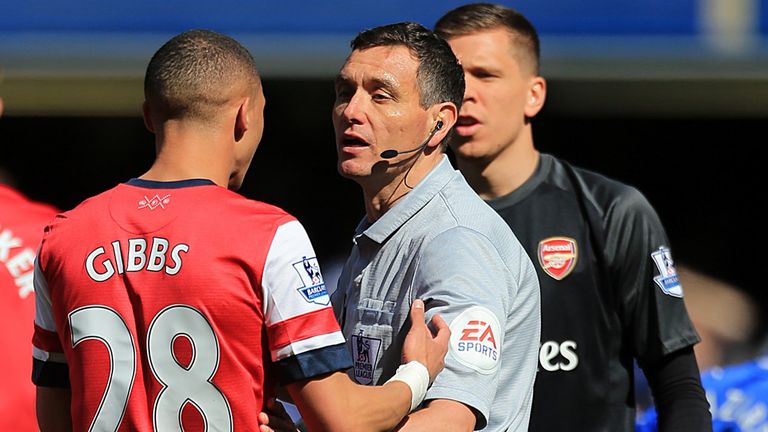 Marriner has been heavily criticised after he sent off the wrong player in Arsenal's heavy defeat at Chelsea, dismissing Kieran Gibbs for handball inside the penalty area despite the offence being committed by Alex Oxlade-Chamberlain.
There had been calls for Marriner, 43, to be stood down from duty this weekend but the Premier League referee's body confirmed on Monday that he would officiate the game at St Mary's.
And Marriner said: "It's like a player who misses a penalty or a goalkeeper who fails to make an easy save - you want to get back out there the week after to put those demons right.
"It knocks you for six, to be honest. You're continuously playing the incident over in your mind. You think about how you could've arrived at the right decision and think 'what could I have done differently?' Afterwards I analysed it to death."
Speaking to Daily Telegraph, Marriner added: "Hopefully I won't let the referees' body down and I'll be able to go out on Saturday and perform at my usual high standard."
Arsenal manager Arsene Wenger, whose side lost 6-0 at Stamford Bridge, also made his first public comments since the game on Friday and said Marriner does not deserve to be vilified for his error.
"He did not do that on purpose, it was accidental. From where I was, I did not see the difference between Chamberlain and Gibbs as well so I believe that maybe the referee needs more assistance to make the right decision.
"When they have doubt, and I have said this many times, the referees should have video assistance on his demand. For a long time I have pleaded for video.
"I believe it would be very good to give them that opportunity. They need help. The game is too quick today for everybody to master everything."
Watch Arsenal take on Manchester City from 5.00pm on Saturday live on Sky Sports 1 and Sky 3D