Premier League: Newcastle boss Alan Pardew admits form is 'not good enough'
Newcastle boss Alan Pardew admits his team's current run of form has simply "not been good enough".
Last Updated: 28/04/14 3:56pm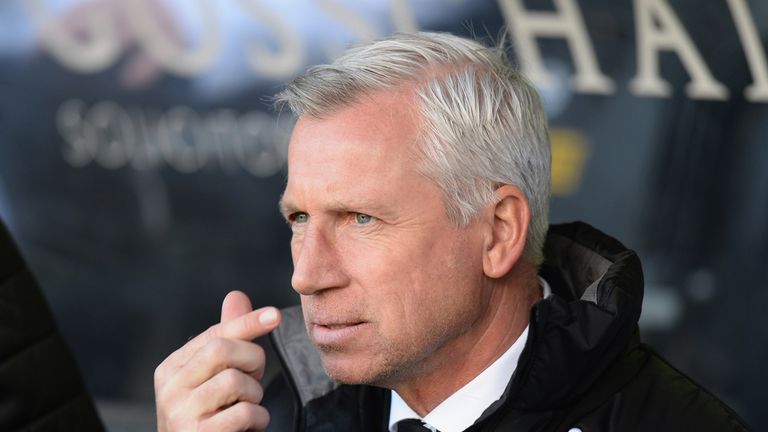 The Magpies have lost their last five Premier League games in a row and are flatlining in ninth place in the table ahead of Monday's match against Arsenal.
"We need a result, of course we do," said Pardew, who will return to the dugout at the Emirates after completing a seven-match ban for his headbutt on Hull City's David Meyler on March 1.
"Every game in the Premier League is very important, whether you are the Newcastle manager or the Arsenal manager.
"What I do know is that for us, our recent run has not been good enough for our fans - they have made that very, very clear - and it certainly hasn't been good enough for me and my staff, and I include the players in that.
"They are desperate to get a win and I think a little bit of desperation last week [in a last-gasp 2-1 defeat by Swansea] cost us the game because what we did towards the end of the game was a sign of a team that hasn't won for a while.
"We just need to get it all right and, if we can get it all right, we can get a result, even at Arsenal."
While Newcastle's form has taken a notable turn for the worse during Pardew's absence from the sidelines, the team's fortunes were already on the slide since star midfielder Yohan Cabaye's departure at the end of the January transfer window.
Newcastle have lost nine of the 12 Premier League games they have played since Cabaye's move to Paris St Germain and Pardew says it is crucial the club hold on to their best players.
"The overall picture is that we were close to the level we need to be before Christmas, but we lost a creative force and didn't replace it," he said.
"That is something we can't do and need to protect ourselves from going forward."
Magpies owner Mike Ashley set the target of a top-half finish at the start of the season, and Pardew says his focus is on achieving that aim with games against Cardiff and Liverpool to come.
"I hope we can get the results that we need," added Pardew.
"Maybe three, maybe four points will probably secure it, and we need to get those in three tough games.
"They have all got something on them. We can be a real hindrance to Arsenal and Liverpool, and Cardiff as well, so that's what we have to focus on, ourselves."