Premier League: Arsenal boss Arsene Wenger backs Alan Pardew to be calm
Arsenal manager Arsene Wenger has no fears over Alan Pardew's behaviour with the banned Newcastle boss set to return.
Last Updated: 28/04/14 3:55pm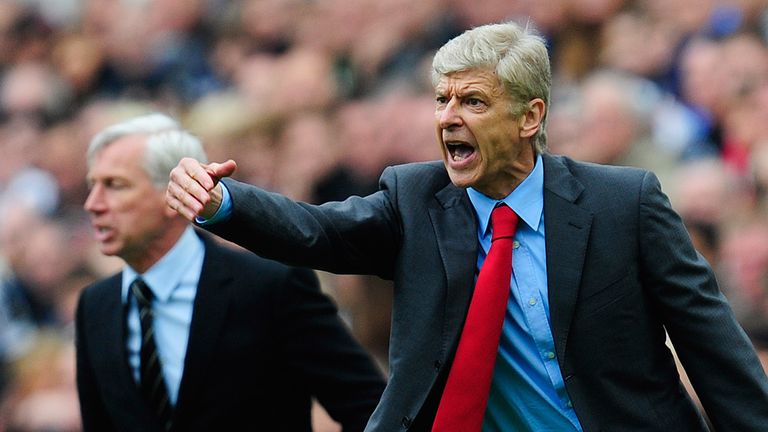 Pardew was hit with a record sanction from the Premier League after losing his composure and headbutting Hull midfielder David Meyler during the 4-1 win at the KC Stadium on March 1.
The Magpies manager is preparing his team for the visit to north London for Monday night's clash, live on Sky Sports 1, and has promised a more relaxed approach.
Wenger - who was involved in a heated confrontation with Pardew when at West Ham in November 2006 - feels all bosses must keep their emotions in check.
"He will try to control himself much more," the Frenchman said. "You feel frustrated when you are not close to your team physically because you are used to it and you feel you still have a level of intervention. Maybe it is purely subjective, but it exists in your mind.
"It is a job where you are under huge pressure - at the Emirates (Stadium) we had no incidents because the distance between the two managers is big.
"Sometimes you get upset because you hear what the other manager is saying and you go 'what is he doing? Why is he talking to the referee and the fourth official?' At Liverpool, Chelsea, Spurs, you basically are very close.
"I think it (space between the dugouts) is better for the incidents, for you
(media) maybe it is worse."
With three games left the Gunners will be desperate to stretch the gap on fifth-placed Everton as the race for the fourth Champions League spot reaches its climax.
Speaking about his own conduct when watching games, Wenger added: "Sometimes I stand up, sometimes I sit down, sometimes I speak with (assistant manager) Steve (Bould), but still most of the time I am up.
"Sometimes I try (to stay away from touchline), yes, consciously, because when you get up there you know you are tense.
"I try to sit down when I feel I am in a negative mood, because then on the
touchline you can become a handicap and you can have a negative influence (on the players), your presence can be negative."
Newcastle have suffered five consecutive defeats to slip down towards mid-table, which has put scrutiny on the position of Pardew.
By contrast, Wenger has seen his side regain confidence after what was a nerve-shredding penalty shoot-out win in the FA Cup semi-final against Wigan.
Since then, Arsenal have won back-to-back Premier League matches and could move four points clear of Everton in the race to secure Champions League qualification after the Toffees lost at Southampton on Saturday afternoon.
Wenger accepts the Wembley triumph has restored confidence and stated: "It has been a relief because we knew that it was a tricky game.
"Did we have a bad period because we had to play the semi-final? I don't think so, I just think we knew coming out of a bad period and losing the semi-final
would have been terrible for us.
"That is why on the day there was a bit more at stake."