Premier League: Alan Pardew hopes Newcastle players restore pride against Cardiff
Alan Pardew is prepared to take the blame for Newcastle's poor end to the Premier League season.
Last Updated: 03/05/14 2:13pm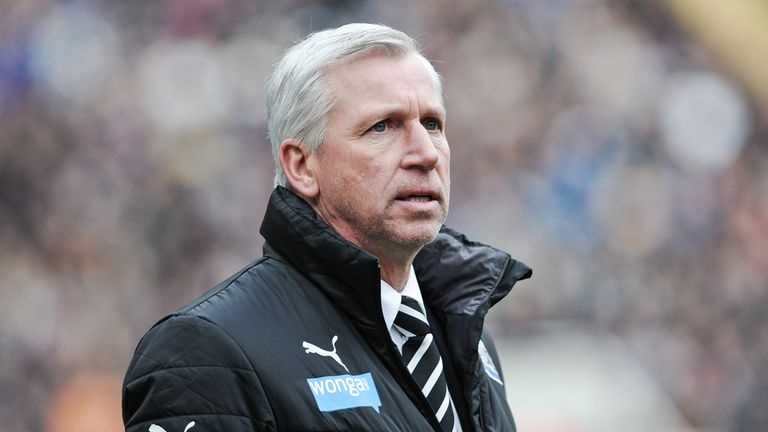 A run of six straight defeats has left the Magpies marooned in mid-table and caused increased levels of anger from supporters who are planning to stage a protest during Saturday's home clash with Cardiff City.
Much of their previous ill-will was aimed at owner Mike Ashley and former director of football Joe Kinnear, but their target has now switched to Pardew and he has no problem with that.
"It's a job that comes with fantastic highs and also deep lows, and you have to cope with those equally well," Pardew said.
"I have tried to be balanced with the players this week and the pressure is very much on me.
"Sometimes it angles towards someone. Sometimes it's the owner, sometimes it's the players - this time, it's me and in a way, that's probably better for the team on this occasion.
"We all know the importance of the game for us as a club, and the club comes first. Forget about me and everything else, that's very important.
"I think that's been lost a little bit this week. This is about Newcastle and the pride that we have. Our pride has been dented.
"We have won 14 games, which at the start of the season we might have accepted. But from where we were at Christmas, we can't accept it and I agree with that."
Newcastle surged into the top six during the first half of the 2013-14 season but the loss of star midfielder Yohan Cabaye has proved too much to overcome.
And such is the upset over a perceived lack of investment in the playing side of the club, the Newcastle United Supporters Trust is urging supporters to consider leaving St James' Park on 69 minutes - the club has not won a major trophy since 1969.
But Pardew is desperate that his side starts to win back their fans, starting on Saturday when a home victory could send their opponents down.
He added: "We have had a very difficult run, probably the toughest run I have had as a manager - certainly, results-wise it is.
"The most important thing is to try to get a stadium on Saturday that gives us a chance, and we need to make sure that we put in a performance in that first 20, 25 minutes that gets the stadium on our side and gives us a platform to try to win the game.
"Everybody at Newcastle from within and without who supports us wants us to win and we want to get that win for them."