Premier League: Alan Pardew won't walk out on Newcastle United
Alan Pardew has vowed he will not become the latest manager to quit the top job at Newcastle United.
Last Updated: 03/05/14 7:02pm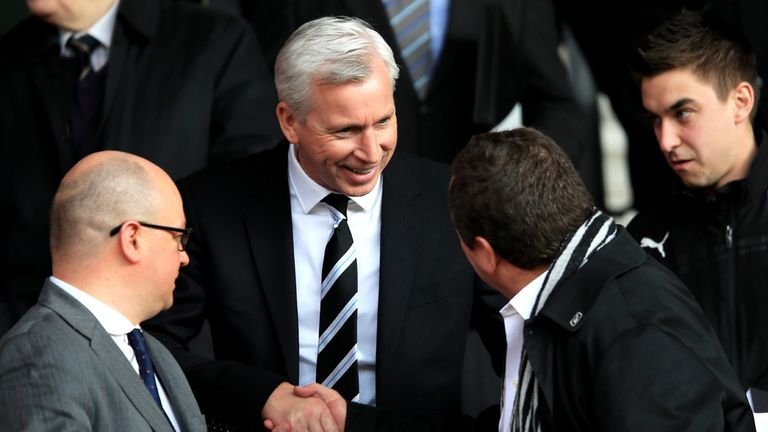 High-profile names like Kevin Keegan, Jim Smith, Jack Charlton and Ruud Gullit have walked out on the club in the past, and Pardew is under increasing pressure after a run of six straight defeats heading into the weekend.
But Pardew says he will not be bidding any farewells at the end of a turbulent season that included a fine start and poor finish, as well as the furore surrounding the departure of controversial director of football Joe Kinnear and star midfielder Yohan Cabaye.
"My belief in what I do has to stay strong," Pardew said.
"I can't give any weak message to my wife, to my daughter and certainly not to the players. And I won't.
"That has to be how you are. If you resign then something is not right in your make up.
"I honestly believe that you have to be strong when the tough periods come - because they are going to come.
"If you are going to keep resigning when tough periods come and you want out, then you shouldn't be doing the job."
Pardew has also been given the backing of centre-back Fabricio Coloccini, who says it is Newcastle's players who should be blamed for their bad end to the Premier League season, not their manager.
He told The Sun: "We all still believe in him. We trust in the manager and we trust in our players.
"When you have six defeats in a row, it is obvious morale is not going to be the best but he has the power to turn it around.
"I always say the players and staff have to take responsibility for results - but the players have to take a bigger percentage of that responsibility.
"We are the ones who go on the pitch, we are the ones who have to fight for the ball, we are the ones who have to make the tackles.
"The manager organises us and plans for games but all the players need to step up.
"It is not true that we are thinking about our holidays, especially as we have not reached our target yet. Nobody is thinking about holidays, families or problems - you are on the pitch and you are playing in front of 50,000 people who support you, so you are focused on wanting to win.
"I understand the fans' reaction. I am a fan, too, and get angry when my players are not playing well or getting results.
"But they have to know we are trying our best to win. We know we are not in a good period so we are fighting and working very hard on the training ground. At the moment we are not doing the right things on the pitch, which is why we are not getting the results."