Premier League: Alan Pardew says Liverpool are the team of the season
Newcastle boss Alan Pardew believes his side will be facing the team of the season when they play Liverpool on Sunday.
Last Updated: 11/05/14 2:04pm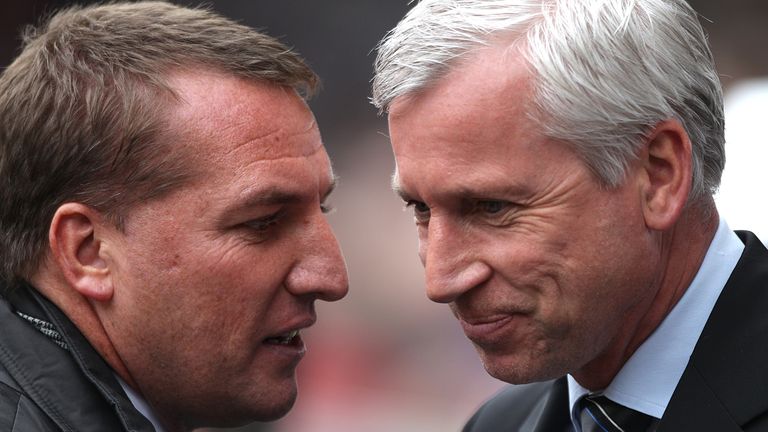 The Reds look set to miss out on the Premier League title to Manchester City, who only need a draw at home against West Ham, but Pardew insists Brendan Rodgers' side deserve all the plaudits which have come their way.
He said: "They have been brilliant. They have been the team of the season, probably, regardless of whether they win it or not.
"It's a tough game for us because at home, they have been awesome. They have got real pace in the team and in the modern game, that kills you.
"You look at Bayern Munich - it's real pace everywhere. Real Madrid - the top teams, you have got to have that pace.
"It's something that as a manager, you long for and hopefully, we can improve a little bit on in our team."
Newcastle ended a damaging run of six successive league defeats by beating Cardiff 3-0 at St James' Park last week and Pardew hopes to end the campaign on a high.
The 52-year-old said: "We desperately want to win and in terms of the game, it's going to be a great atmosphere, for sure, because Brendan Rodgers has done an unbelievable job.
"Moving four or five positions at the top of the league is the hardest job that there is in football, and for me, he has got a great chance of being Manager of the Year, and rightly so - and he could still win the title.
"That's his format. For me, it's about a performance that will make our fans at least believe that we have got some good players here still and that we just need a couple more to boost it.
"I have got to be careful what numbers I use because it always gets washed away, but we know that we need more players."
Watch Liverpool v Newcastle on Sky Sports 2HD from 2.55pm on Sunday.