Newcastle say they are not planning to replace manager Alan Pardew
Newcastle have announced at a fans' forum that manager Alan Pardew will be remaining in place for next season.
Last Updated: 14/05/14 5:58pm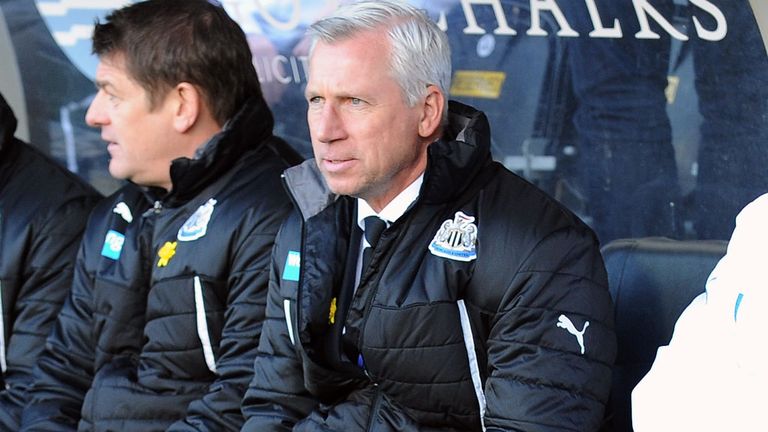 Although Newcastle finished 10th in the Premier League season which has just concluded, Pardew came under pressure during the second half of the campaign as the Magpies' results deteriorated.
He was also handed an unprecedented three-game stadium ban, followed by an additional four-game touchline ban, for head-butting David Meyler of Hull City.
The minutes of a fans' forum held at St James' Park report that "Forum members had collated detailed statistics and questions from the wider fan base into a document, and asked for the pertinent issues contained within it to be addressed".
And the board made it clear in their response to these questions that there would be no change of manager.
The minutes reported: "In addressing the documents, the board stated that Alan Pardew will remain the club's manager.
"The board stated that incorrect media reports which claimed Newcastle had contacted other individuals about the manager position were in the hands of the club's legal team."
In a question about the clubs' ambitions: "The board accepted that the second half of the season had been disappointing but underlined its aim of improving on a 16th-place finish in 2012/13 with a top 10 finish had been realised.
"It was stated that the club's aims for the 2014/15 Premier League season would be made public once they had been determined."
And, with regard to Pardew's gross misconduct charge: "The board explained that it had acted swiftly and decisively following the Hull fixture and that the manager was left in no doubt that his actions were unacceptable.
"The statement, warning and club fine imposed indicated how strongly the incident was viewed."