World Cup: Newcastle's Paul Dummett receives death threats for Luis Suarez injury
Newcastle's Paul Dummett has received online death threats after Uruguay fans blamed him for Luis Suarez's injury.
Last Updated: 23/05/14 7:34am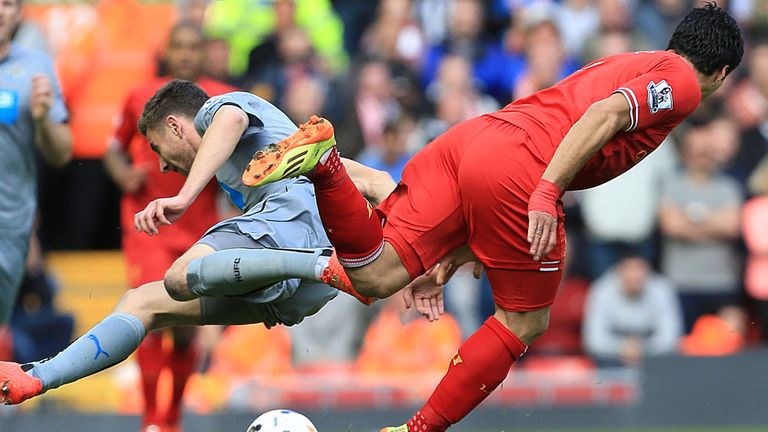 Suarez underwent knee surgery this week on an injury that was sustained during a collision with Dummett during Liverpool's final game of the season.
Dummett was shown a red card after accidentally catching Suarez late in the game, although the dismissal was later rescinded.
Suarez's surgery lasted just half an hour and is expected to keep him out for two weeks; Uruguay Football Association officials are confident he will be available for their World Cup campaign, which begins against Costa Rica on June 15.
But the assurances were not enough to prevent an extreme reaction from one Twitter user, Federico Gonzalez, who wrote: "Hi @PaulDummett, from Uruguay we hope someday u come here to have a nice time w/ friends. We have things for you, like a bullet in the head."
Dummett, who was this week called up to the Wales squad for their friendly with Holland, received another message from Twitter user Cadena Chori which said: "We kill you."
The injury was not reported at the time of the game, but Suarez was sent for an MRI scan after complaining of pains during Uruguay's training camp.
"Yesterday, Wednesday 21st of May, Luis Suarez suffered an intense pain in his left knee after an undergoing a normal warm-up," said a statement from the Uruguay Football Association (AUF).
"He had an MRI scan which confirmed a partial lesion of the external meniscus of his left knee.
"On Thursday morning, he underwent an arthroscopic partial resection of his meniscus in the Medica Uruguaya hospital (Montevideo).
"There was no evidence of any further damage to the knee.
"His participation in the World Cup in Brazil has not been ruled out.
"It is worth noting the player received a blunt trauma to his left knee in the final game of the Premier League season against Liverpool which provoked a pain that subsided due to rest at the end of the season."
Uruguay FA president Wilmar Valdez suggested if Suarez's recovery went to plan he could return to training in just over a fortnight.
"We know the surgery was a success and that the injury is not serious. We have to wait and see how he recovers," he told Uruguayan newspaper La Ovacion.