Premier League: Alan Pardew setting tougher aims for Newcastle this season
Last Updated: 16/08/14 11:21pm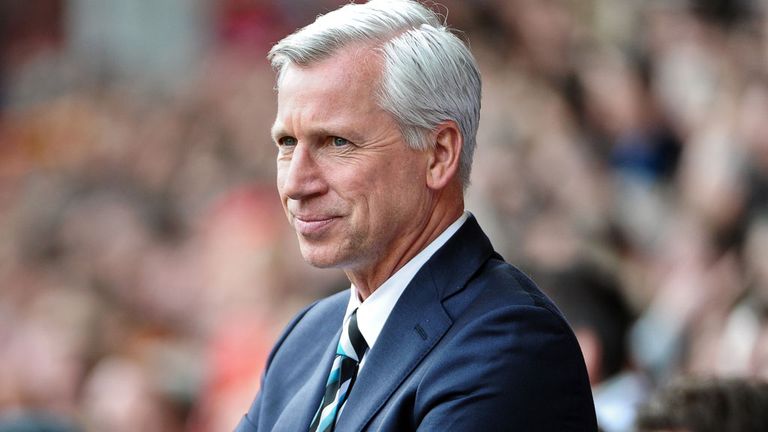 Newcastle boss Alan Pardew will not put any limits on the ambitions for his club in the Premier League this season.
The Magpies endured some tough stretches last season but still managed to finish 10th, the minimum requirement set by the club's owner Mike Ashley, albeit before star midfielder Yohan Cabaye was sold in January.
Pardew admits the club's objectives may not change radically despite a significant summer recruitment drive, but he will be looking higher than mid-table.
He said: "I don't think the target from the club will change, but that doesn't represent the target that I want my players to drive for because we want to drive for higher than that.
"I don't like setting targets myself with the team. What we do also need to understand - and I know people are saying it's desperate, that I need a fast start etc, etc after what happened at the back end of last year.
"I think that's going to be difficult because we have got a lot of new players, so I am kind of preparing myself for an even start, if I am honest, and to get stronger as we go along.
"If it's any better than that, then that will be a blessing."
Pardew admits he learned a lot of lessons last season, especially in the wake of his clash with Hull City midfielder David Meyler, and he hopes to make a positive start against reigning champions Manchester City on Sunday.
He added:  "I have learned a lot of lessons since I have been manager at this football club, and the most important lesson I have learned is that you need to be consistent with what message you are giving to your players, and I have been fairly consistent to my players ever since I have been here about how important it is.
"The results sometimes alter: you are on a winning run, you are on a losing run. But the most important thing is your principles stay the same.
"If people question those principles or question that work ethic, they won't be included in this group. This group is a strong group and I think it will work hard for Newcastle fans.
"I have learned one thing also since I have been here: that Newcastle fans want to win and they want to win every game, and that's what we are going to try to do.
"The one thing about Man City is, I thought we put in one of our best performances last year and were beaten. They are that type of team you can be at your very best against and still be beaten.
"But I do think that we are really well set for this game and hopefully, we can get some kind of result against them because obviously our record isn't great."
Watch Newcastle take on Manchester City live on Sky Sports 1 HD from 3:30pm on Sunday.