Sky Sports pundits Jamie Carragher and Niall Quinn discussed Man City's title hopes after they beat Liverpool to win the Capital One Cup.
Willy Caballero was the hero for City after the goalkeeper saved three penalties in the shoot-out, setting Yaya Toure up to dispatch the winning spot-kick.
After a run of three consecutive defeats, including damaging losses to title rivals Leicester City and Tottenham, Manuel Pellegrini's side have now won back-to-back games.
A 3-1 victory over Dynamo Kiev in their Champions League last-16 first-leg leaves them well positioned to progress, while Pellegrini has now added his third piece of major silverware in what will be his final campaign as City manager.
Carragher still thinks they face an uphill battle to add the Premier League crown, but believes their game in hand against Newcastle at St James' Park could prove crucial in the run-in.
"It's nine points and six if they win their game in hand,"  Carragher told Sky Sports. "Spurs won again today and Leicester yesterday, so two out of three have moved away from them [Arsenal lost to Man Utd], so they have to win that game in hand.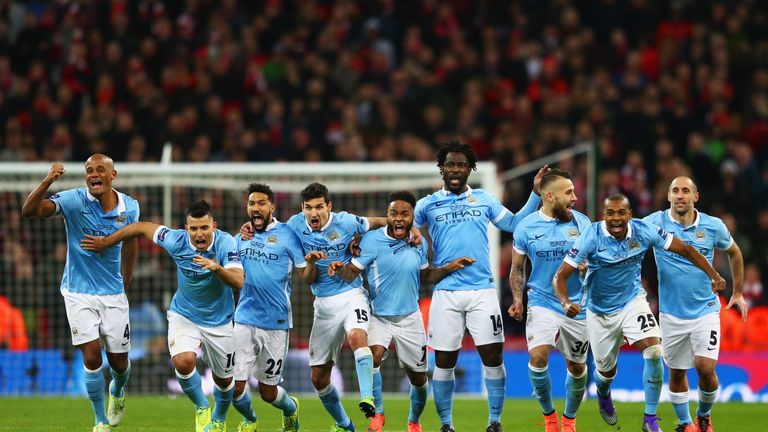 "It looks like there's been an upturn from them recently. Midweek in the Champions League was a massive improvement from what we saw against Leicester and Tottenham.
"The two times they have won the title they have come from behind and they have come late. I still think they're outsiders and I fancy one of the other two. In the past they have caught one team, but not two."
Former Man City striker Quinn was more upbeat on their title hopes, and believes their league experience allied to a confidence-boosting cup victory could be important factors during the final weeks of the campaign.
"The morale now is the best it's going to be all season, and I think that adds up to a lot for the run-in," Quinn said. "Leicester and Spurs are in uncharted territory and at the very least this is an opportunity for Man City.
"How big is it? If this team stays together and keeps fit, I think they have a chance."