No excuses for Man City if they don't win Premier League title, says Sunday Supplement panellist Andy Dunn
Last Updated: 17/09/17 4:59pm
Man City and Pep Guardiola will have no excuses if they don't win the Premier League title, says Sunday Supplement panellist Andy Dunn.
City have scored 11 Premier League goals over their last two games and have taken a three-point lead at the top of the table ahead of Sunday's matches.
They thrashed Watford 6-0 on Saturday The Mirror's chief sports writer Andy Dunn believes Guardiola and his side must win the Premier League this season.
"I got a lot of reaction when I wrote [in The Mirror] that he's got no excuses now, but the point I'm making is if you look at that team, you see the performance they put on and the array of attacking talent, then you see him bring on Leroy Sane, Ilkay Gundogan and Bernardo Silva," he said on the Sunday Supplement.
"You see those three players come on when they are 4-0 up, and those are the types of players he has at his disposal going forward. You're thinking that nothing else but winning the title would be good enough for this team.
"They spent £200m in the transfer window and there's a suggestion in the papers today that it's the most expensive squad assembled in world club football at around £400m. So no, there are no excuses. Second isn't good enough for that team. That team is an exceptional, forward-thinking team.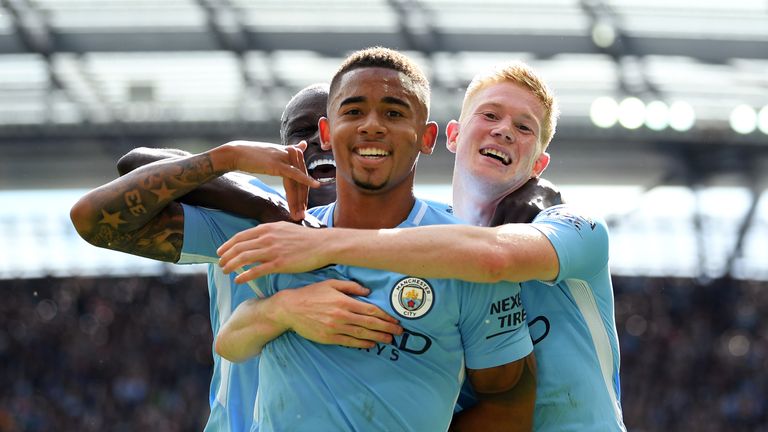 "You could say that Jose Mourinho has bought Romelu Lukaku and Nemanja Matic among others and spent a lot of money, so why are there no excuses for United? Well, they finished sixth last year and it's a big leap from there to first.
"Has Antonio Conte got an excuse? Possibly. He's lost a crucial player in Diego Costa and it's always hard to defend a title.
"These aren't great excuses but they are more feasible that any Pep may have. The point is that it is a reflection of how good they can play. They are the best attacking team in the Premier League by some distance."
Sergio Aguero netted a hat-trick at Vicarge Road on Saturday, adding to the two goals he scored over the week - once against Liverpool in the Premier League last weekend and another in a 4-0 win at Feyenoord in the Champions League.
Much has been made about his spot in Guardiola's side but it appears his starting berth is more secure than ever, with Oliver Kay sure that City are a better side with the striker included
"He has been outstanding. The assist for Gabriel Jesus was the thing that seemed to please Guardiola most in the 5-0 win over Liverpool last week," The Times' chief football correspondent said.
"There's always been a question whether Guardiola would want a pure goalscorer in his team. Obviously, Lionel Messi is a prolific goalscorer but he's more than a pure goalscorer. Aguero has always been that penalty box player and the question has always been whether Guardiola would want that type of striker in his team.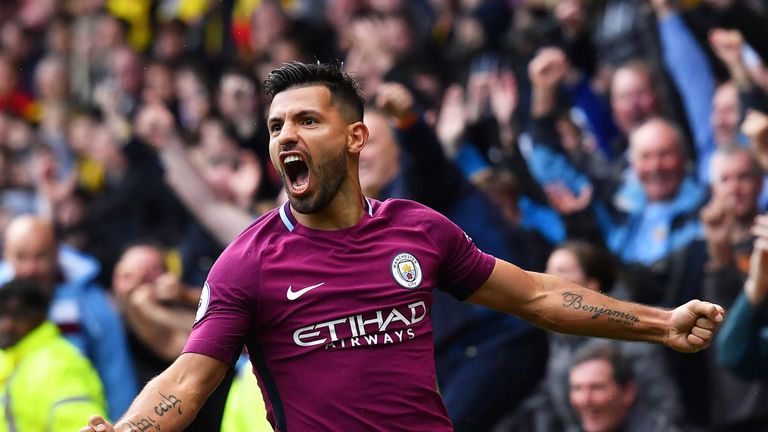 "He signed Jesus with the view of making Aguero a bit more peripheral, the way Guardiola used David Villa, Zlatan Ibrahimovic or Samuel Eto'o, who were shunted aside to make room for Messi and it seemed like he was going down that road with Aguero.
"But people say he is a purist and not a pragmatist but he is pragmatic enough to see that City are a better team with Aguero and are currently an absolutely outstanding team with two pure centre forwards up front. It's a departure for him."