Premier League table at matchday five strikingly similar to end-of-season positions
By Adam Smith
Last Updated: 21/09/17 2:22pm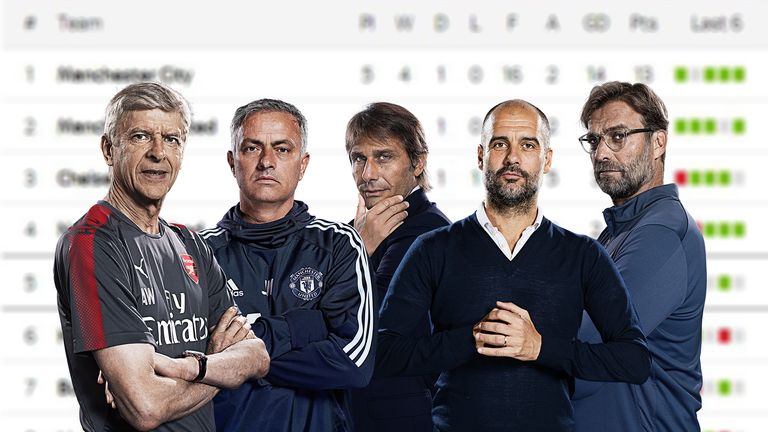 They say you should not look at the league table this early in the season - but a Sky Sports study has revealed a third of Premier League teams do not finish more than one place above or below their position after matchday five.
While the campaign is barely a month old, early season form is clearly indicative of what is to come for many teams.
Over the last 10 years, 23 teams have finished the season in exactly the same position as the one they took up after five games, while 44 teams moved up or dropped down just one spot. That works out as 33.5 per cent of clubs hardly improving or falling away.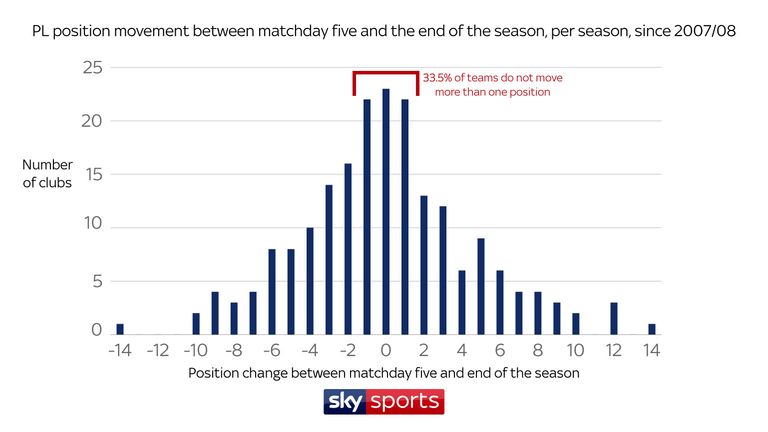 Last season, this trend was even more evident than usual with eight teams - 40 per cent of Premier League clubs - shifting no more than one place from their matchday five ranking.
Burnley, Swansea and West Brom ended the season in exactly the same position as they found themselves after five games in 2016/17. Manchester United and Tottenham both moved up one place, while Arsenal, Leicester and Sunderland each slipped a spot.
That's good news for early high-flyers Newcastle, Huddersfield and Burnley then, who can all take encouragement from the importance of their fast starts.
Of course, there is still time for plenty of movement from other sides. Last season's champions Chelsea, for instance, rose four places to take the title, while Hull and Middlesbrough slipped six places to suffer relegation.
Over the last decade, Arsenal experienced the most spectacular rise - languishing in 17th place during September 2011 but climbing 14 places to end the season in third.
Additionally, Tottenham were bottom of the league after five games in 2008 but rose 12 places by May, a jump matched by Everton in 2010/11 and Liverpool in 2012/13.
In contrast, Aston Villa suffered the biggest plummet, crashing 14 places from third spot to 17th in 2014/15, followed by a 12-position crash by Norwich in 2015/16.
CLUB BY CLUB
Bournemouth have the highest average rise over their two top-flight seasons, climbing four places on average.
However, Liverpool have improved from their matchday five spot in the Premier League more than any other club on average over the past 10 years, rising 34 places in total.
Tottenham have risen 29 places, followed by Manchester United (24), Stoke (21), Everton (12) and Arsenal (10).
Conversely, Aston Villa plummeted 30 places over the last decade from matchday five, ultimately ending a 28-year run in the top flight after suffering relegation to the Championship in 2016.
Hull (-28) and Middlesbrough (-13), who were relegated last term, have suffered declines in form after early fast starts, while West Ham have also slipped 12 places during the period - but Blackpool have the worst average, crashing from ninth to 19th during their single top-flight campaign during the period in 2010/11.
Early Premier League leaders Manchester City are the most static club currently playing in the league, only moving -0.2 places per season on average.
However, while Pep Guardiola's men are currently top of this season's standings, he has reason to be concerned: the chasing pack of Liverpool (3.4), Tottenham (2.9) and Manchester United (2.4) all typically make significant gains on average per season.