Napoli president mocks City
Napoli president Aurelio De Laurentiis has mocked Manchester City by branding them 'money wasters'.
Last Updated: 16/09/11 11:00am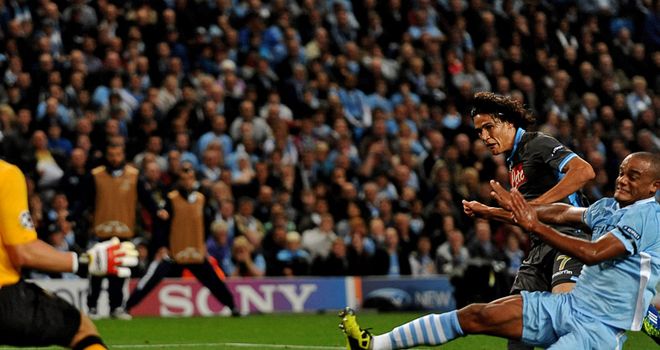 Napoli president Aurelio De Laurentiis has mocked Manchester City by branding their Champions League rivals "money wasters".
The two sides made their Champions League debut at the Etihad Stadium on Tuesday night and Napoli held the big-spending Blues to a 1-1 draw.
But De Laurentiis believes Napoli claimed a moral victory with their side costing a fraction of the amount City spent to assemble their star-studded squad.
Uefa are introducing financial fair play rules and De Laurentiis has called on president Michel Platini to ensure the new regulations are adhered to.
Respect
"Does Michel Platini want to make this financial fair play rule or not?" he asked.
"Is it going to be respected? In any case, I have fun challenging money wasters."
City had the better of the opening stages but Napoli gradually managed to contain the Premier League side's attacking stars and threatened on the break.
From one such counter-attack, Edinson Cavani scored a 69th-minute opener and, although City drew level five minutes later through an Aleksandar Kolarov free-kick, De Laurentiis was still pleased with the result.
"Here a draw is like a victory - we deserve high praise," he added in the Daily Mirror.
"People had said that City and their cousins United are the candidates to win the Premier League and it would be really hard for Napoli.
"It didn't go like this and if it weren't for a few errors, we could have won.
"I am almost glad we did concede that goal as it will give us time to think things over and not get convinced we're too perfect."
Napoli host Villarreal in their next Group A game on 27th September while City visit Bayern Munich, who top the group after winning 2-0 at Villarreal on Wednesday night.