Mancini happy with Hargreaves
Manchester City boss boss Roberto Mancini declared himself delighted with Owen Hargreaves' debut.
Last Updated: 22/09/11 8:45am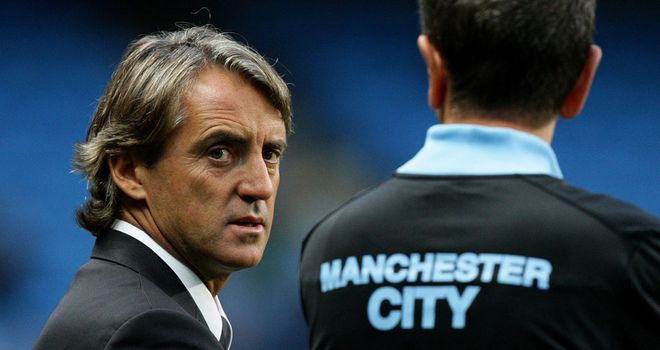 Manchester City boss Roberto Mancini declared himself delighted with Owen Hargreaves' debut.
Hargreaves started his first game for City in their Carling Cup win over Birmingham, following his summer switch to the Etihad Stadium.
The England international has barely played in three seasons, but he is determined to prove his fitness and he began his City career in fine style as he fired home the opener in their 2-0 win.
"It was good for him," said Mancini. "Owen is a fantastic player, who can become a very important player for us.
"He hasn't had any problems in the last three weeks. At the moment his knee is fine.
"We said before the match we would give him between 45 and 60 minutes. As it turned out, he was okay for 60."
Mancini must now decide the best way to plot Hargreaves' progress, knowing the new arrival will be denied an emotional reunion with former club Bayern Munich in the UEFA Champions League next week as he was not registered in City's 25-man European squad.
"We didn't know what his condition would be when we had to decide," said Mancini. "It was difficult. It is possible we could bring him in during January.
"But he has only played 60 minutes. Now it is important that he recovers properly because he can be good for us and England.
"After so long out, I don't think it was easy for him before the game. But he worked well and scored a fantastic goal."
Pleased
Mario Balotelli added a second before half-time and with Birmingham offering only a very limited threat, City were able to coast home.
It was a good night all round for City as Kolo Toure was named skipper as he played his first game since completing a six-month ban for a failed drugs test.
"I am happy for him too," said Mancini. "It was the correct decision to choose him as captain."
Mancini also had words of praise for Wayne Bridge and Nedum Onuoha, who were both selected despite previously being told they had no future at the club.
"It is difficult for them to play often but they did very well," he said.