Toure thanks Wenger for help
Kolo Toure has thanked Arsene Wenger for his backing and says the Arsenal boss will bounce back.
Last Updated: 23/09/11 8:26am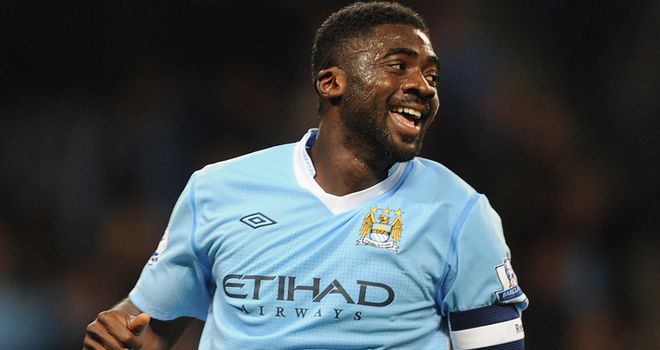 Manchester City defender Kolo Toure has thanked Arsenal manager Arsene Wenger for standing by him after his failed drugs test - and insists the Frenchman will emerge stronger from his present crisis.
Toure returned to action for City in their Carling Cup win over Birmingham on Wednesday night, ending a six-month absence.
The centre-back was banned after taking a prohibited substance in an effort to control his weight last season.
Although the possibility of a two-year suspension hung over the 30-year-old until his disciplinary hearing was concluded in May, even six months out of the game was a nightmare to a player who had always conducted himself with dignity.
However, those closest to him remained loyal. Brother Yaya dedicated his goals in the FA Cup semi-final and final to Kolo, who was handed the captain's armband by manager Roberto Mancini on his re-appearance this week.
And Toure will never forget the actions of Wenger, his former manager, and ex-Arsenal director David Dein, who always made themselves available as a sounding board.
"I want to thank two people who have been really important to me - David Dein and Mr Wenger," he said.
"They have been supporting me and never let me down. I want to thank them very, very much."
Toure will never forget the debt of gratitude he owes to Wenger.
It was the Frenchman who brought him to England from the Ivory Coast as a 20-year-old.
"I would never say a bad word about Mr Wenger," said Toure. "He is somebody that makes players better. I came from nowhere. I was in Africa and nobody believed in me.
"I had been at a lot of clubs that didn't take me. This guy made me what I am now."
So, even though Toure's world has now turned full circle and he is ready to put his own demons to bed, he still sympathises with the plight Wenger currently finds himself in.
"This time is really hard for Mr Wenger but he is really strong and a very intelligent manager," he said.
"It makes me feel a little sad because at the moment they are really unlucky and still play good football.
"I wish him all the best and know he will come out of this strong because he is definitely a top manager."