McCarthy slams Tevez
Wolves boss Mick McCarthy has criticised Carlos Tevez for his alleged refusal to play for Manchester City against Bayern Munich.
Last Updated: 30/09/11 9:51am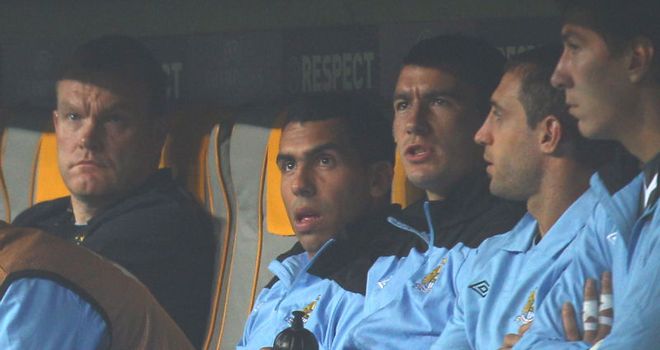 Wolverhampton Wanderers manager Mick McCarthy has heavily criticised striker Carlos Tevez for his alleged refusal to play for Manchester City against Bayern Munich on Tuesday evening.
Tevez was asked by City manager Roberto Mancini to come on as a substitute in their UEFA Champions League Group A fixture at the Allianz Arena that they eventually lost 2-0, but the Argentina international did not heed the instructions.
The Etihad Stadium outfit have since imposed a two-week suspension on the 27-year-old while they investigate the incident, who has also been criticised by several football managers in the Premier League for his actions.
Wolves boss McCarthy has added his comments, underlining the bad example Tevez is proving to be in football.
Dreadful action
"Any other time, I wouldn't talk about anybody else's player," he explained. "I'd say it is their problem.
"But I think it is a football problem if it is allowed to fester and, to happen again, it would be dreadful.
"It is bad for the game globally, not just Manchester City. We do have a responsibility as a football club, as a manager, as players, to people who watch it and pay fortunes.
"The £1.2billion the Barclays Premier League generates every year all over the world, we have a responsibility to that and players do as well."
McCarthy continued: "The suspension is the right course of action. It's a difficult one for the people at Manchester City handling it because you are damned if you do and damned if you don't.
"Everyone has got an opinion on it. It is a very visible high profile thing. What he did was completely wrong. I might have left him on the tarmac (in Germany) actually.
"You wouldn't want it to set a precedent where players can actually say they are not going to play.
"But what is the punishment? I don't know. They are very wealthy. Has it been coming, with the amount of money players get?
"It is something that has come out of the blue and has shocked everybody."
Disgusted
He added that some of his Wolves players were totally against this stance of Tevez to show his frustration to the manager in public during a match.
"The couple of players I spoke to yesterday were disgusted by it and couldn't understand it," revealed McCarthy.
"I would hate for other footballers to look at it and think 'I hope he gets away with that because I fancy doing that.'
"I don't think that is the case because generally footballers care about their profession and want to play."