Joorabchian stands by Tevez
Carlos Tevez's commitment to any side he turns out for cannot be questioned, according to his advisor Kia Joorabchian.
Last Updated: 06/10/11 9:16am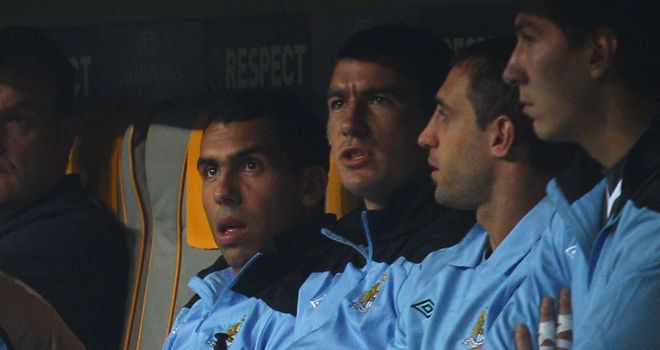 Carlos Tevez's commitment to any side he turns out for cannot be questioned, according to his advisor Kia Joorabchian.
The Manchester City striker has caused a storm with his recent actions, with his reported refusal to take to the field in a UEFA Champions League clash with Bayern Munich seeing him vilified.
Having remained rooted to the bench at the Allianz Arena, Tevez has been hit with a two-week suspension by City as they carry out an internal investigation.
The Argentina international, who is currently back in his homeland, has always maintained that he did nothing wrong.
In a post-match interview he was said to have told Sky Sports reporters that he 'did not feel right to play', while a statement released in the aftermath of the game claimed there had been a 'misunderstanding'.
The full consequences of his actions are yet to be determined, but Joorabchian claims Tevez has not acted out of line after claiming the translation of the questions put to the player in the post-match interview were not accurate.
Eager
He believes his client is a model professional who never gives anything less than 100 per cent when out on the field and should not be judged until the full facts have come out.
"One thing you can't criticise him for is his commitment when he's on the pitch," Joorabchian told the Leaders in Football conference in London.
"You can never criticise him for not wanting to play.
"There have been several times at Manchester City, throughout his two-year career, that he has taken injections where he has played with swollen ankles, where he has played in situations where even doctors have told him not to play.
"My opinion is that Carlos, throughout his career, has been one that fights to play. If there is any issue it is because he is so eager to play.
Vision
"You have to remember that Carlos joined Manchester City when he had an offer from Real Madrid and Manchester United on the table. Man United gave him an offer, Real Madrid gave him an offer and Manchester City gave him an offer.
"He was one of the first players to join Manchester City's new vision. Carlos was brought in to help start that vision, so he feels differently towards the club. He has an intense feeling.
"At the end of his first season, when they didn't qualify for the Champions League, he took that as a very personal issue. In his second season his performances were outstanding."
Joorabchian believes many people have judged Tevez without knowing the whole story and has called on those that have been quick to condemn him to hold fire until the club have carried out their investigation.
He said: "The main issue is, what happened on the bench in Munich is one of a lot of confusion. Although I don't think it's correct for any player to say they don't want to play, I think the events in Munich have been judged prior to the real outcome coming out. We didn't see what really happened on the bench. We saw the TV footage.
"We see Nigel de Jong going on and Carlos still warming up and a God-awful row between Roberto Mancini and Edin Dzeko. You see this row carrying on and Carlos sits down. Carlos then stands up, there's more shouting and he sits back down.
"The next thing we hear is what Roberto says."
Joorabchian also refused to speculate on Tevez's future, saying: "I cannot predict what Carlos wants to do.
"He has been clearly judged and condemned before the case has been fully looked into. I think the club and Carlos are in a very difficult position."