Taylor - I'm worried for Tevez
Gordon Taylor believes the Carlos Tevez situation has gone 'backwards' and fears the Man City striker is on a 'self-destruct pattern'.
Last Updated: 15/11/11 9:43am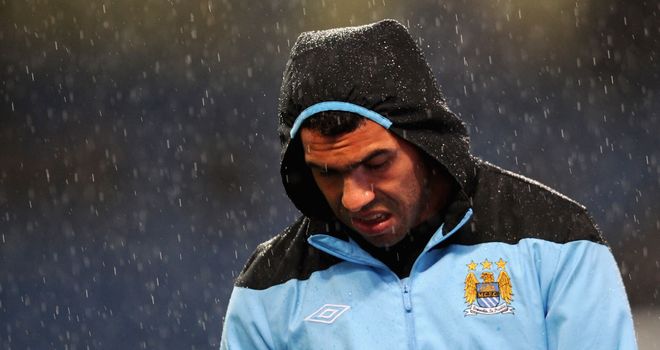 Professional Footballers' Association chief executive Gordon Taylor believes the Carlos Tevez situation has gone 'backwards' and has expressed concern that the Manchester City striker is on a 'self-destruct pattern'.
Tevez is currently back in his native Argentina after rejecting City's request to return to England on Monday following claims the player's trip to visit his family was unauthorised.
The 27-year-old's representatives have held talks with City regarding the issue which is the latest in a troubled season which has already seen Tevez found guilty of five breaches of contract.
He was fined two weeks' wages following an incident in City's UEFA Champions League defeat by Bayern Munich in September and confirmed last week he would not be appealing against the punishment.
The former West Ham and Manchester United forward had received the PFA's support when City initially tried to impose a four-week fine and Taylor remains keen to reach a suitable resolution.
Worrying
"January is coming up soon, but before then I want it to be satisfactorily resolved," Taylor told Sky Sports News.
"He's a footballer and, like the Fleetwood Mac song, players only love you when they're playing and he needs to be playing. To be playing he needs to be fit and to be fit he needs to be training.
"I thought we were making some progress but it's gone backwards. I don't want him to leave the club.
"He's had so many problems at other clubs, with West Ham then the problems with third party ownership, with United when he left them. I don't want him to leave with a bad taste in the mouth with City supporters and the club.
"He's been too good a player for that. I think it's time now that changed and try to get his mindset changed to a better place.
"I'm worrying about him now because it's a self-destruct pattern."
Tevez's representatives, meanwhile, say discussions are ongoing with City and do not consider the latest matter to be a disciplinary issue with the Premier League leaders.
"Over the weekend there have been a series of meetings and conference calls," said his representative in The Independent. "Carlos is still in Argentina, however, both sides are kind of in agreement that they want a resolution as quickly and as smoothly as possible.
"Discussions will probably be ongoing for the foreseeable future.
"The meeting that Carlos was asked to attend and subsequently didn't does not, from our view, form part of any ongoing disciplinary procedure.
"From our side we are not aware of any disciplinary procedure being invoked by City."