Barry braced for Euro exit
Gareth Barry has admitted it would be a big disappointment to bow out of the Champions League as Man City prepare to face Bayern Munich.
Last Updated: 06/12/11 8:48am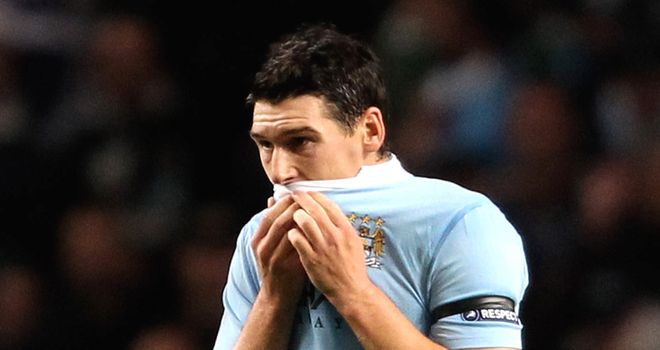 Gareth Barry has admitted it would be a big disappointment to bow out of the UEFA Champions League as Manchester City prepare for Wednesday's clash with Bayern Munich.
Roberto Mancini's men have not been able to replicate their blistering Premier League form on the European stage this season and are in danger of missing out on a top-two finish in Group A.
City must not only beat a formidable Bayern team at the Etihad Stadium in midweek to progress to the last 16, they also need bottom club Villarreal to avoid defeat against Napoli.
Barry is trying to remain positive and feels both sides of the equation could work out to take City through to the knockout phase.
However, he also recognises that the Blues' maiden Champions League campaign could be set to come to an end.
"We're confident. We believe that Villarreal have got the team that can get a result," said the midfielder.
Learning curve
"But the bottom line is we've got to beat a very good team over here in Bayern Munich, so that will be a hard target in itself.
"That will be our main aim. It's tough but we can do it and it's just fingers crossed that Villarreal can do a job for us."
Barry added: "We're not going to lie and say we can concentrate on the league. It would be a big disappointment but it's the first time the club has been in the Champions League.
"Although we feel we've got the quality to progress, it is another learning curve.
"New players have come in and the ones that have been here for an extra year have got used to the Premier League - everyone is stepping up to the plate this year."