Tevez loan request rejected
AC Milan's bid to take Carlos Tevez on loan has been knocked back, but they are not giving up hope and expect a long negotiation process.
By Nadia Carminati
Last Updated: 12/12/11 10:48am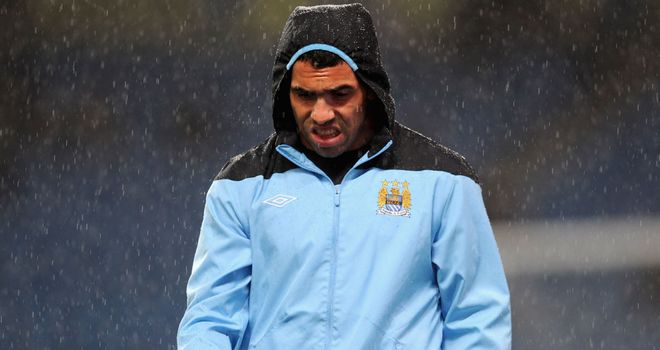 AC Milan have announced that their bid to take Carlos Tevez on loan in January has been knocked back, but they are not giving up hope and expect a long negotiation process.
The Italians revealed earlier this week that they had agreed terms with the unsettled Manchester City striker and were waiting to hear from the Premier League club whether they could sign him on loan, with a view to a permanent move next summer.
City manager Roberto Mancini made it clear that he wanted to sell Tevez, who is currently back in his native Argentina after flying home last month without permission.
Milan have now confirmed that the two clubs are interested in different deals, but they have no intention of dropping their pursuit of the 27-year-old.
"We received an answer. You all know the situation," Milan vice-president Adriano Galliani told Sky Sport Italia, before going on to say that a number of other clubs were keen on Tevez.
"Manchester City want to sell the player outright, while we want him on loan with the right to buy. We are a big club and if players do well then we take up their options.
"It's true that Paris St Germain are looking at the Argentine now as well, so I think it will be a bit of a long negotiation process. I spoke to Leonardo and he told me the president of PSG is interested in Tevez.
"In any case, I don't want to make any predictions on the outcome of the negotiations, as there were many clubs on Tevez, including some Italians, an English side and PSG.
"We have already received City's response to our offer and they are asking for the player to be signed outright, so I hope to convince them to accept our proposal."
Best in the world
While Milan face a battle to bring in Tevez, their coach Massimiliano Allegri has already spoken of his excitement about the possible addition of such a player.
Allegri believes Milan's attacking options would be the envy of every other team in world football if a deal for the former Manchester United man can be agreed.
"It's better to have great players playing for you rather than against you," he said.
"If he joins it would strengthen a part of the team that is already world class and then we would have the best attack in the world."
Milan already have the likes of Zlatan Ibrahimovic, Antonio Cassano and Robinho on their books but Allegri does not believe the signing of another potentially combustible character would harm the team.
He explained: "As well as being young lads they're professionals and I believe it's easier to manage so-called hot-heads at Milan, although I believe that everyone has their own character and that has to be managed accordingly."