Mancini - Ade'd been handy
Roberto Mancini admits he could have used Emmanuel Adebayor at Manchester City in recent weeks.
Last Updated: 20/01/12 4:41pm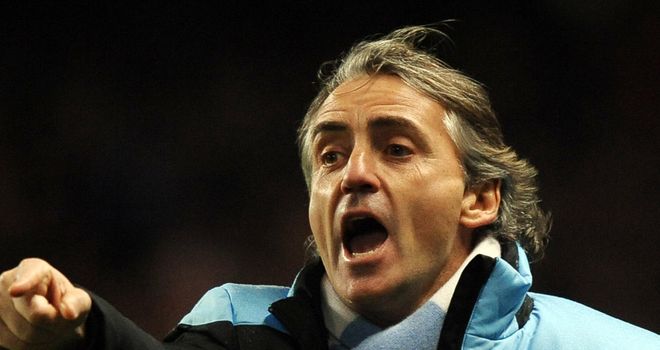 Roberto Mancini admits he could have used Emmanuel Adebayor at Manchester City in recent weeks.
The Togo international found himself surplus to requirements at the Etihad Stadium and spent the second half of last season on loan at Real Madrid.
He was signed in 2009 for £25million by former boss Mark Hughes, but Mancini said he could not find a regular spot for him in the team and he signed a season-long loan deal with Tottenham in the summer.
However, with Carlos Tevez now out of favour at the club following his long-running dispute with Mancini, and Edin Dzeko and Mario Balotelli both missing games through injury this month, City have been left with Sergio Aguero as their only fit recognised forward.
When asked whether he might have liked to have called upon Adebayor in those circumstances, Mancini said: "Probably, probably - but we didn't know with Carlos what would happen in Munich.
"We had four strikers. I think with four strikers you can play one year. I am happy for Manu because he is playing very well for Tottenham."
Not Playing
Mancini will not have to face Adebayor on Sunday as he is not allowed to play against his parent club under the terms of his loan deal.
Whilst that comes as a relief to the City boss, he is not sure that the player has a future in Manchester when his loan deal at Spurs expires.
He said: "I don't know in this moment.
"I said I am happy because I watched a lot of games and he has played very well, scored a lot of goals.
"Sometimes it is possible that you have a situation like this - you have good players but he wants to play always. This is difficult in a top team.
"When you have three or four strong strikers you need to change. If you have one striker who needs to play always it is not easy."
Three horse race
The Italian also feels that Sunday's opponents are the only team that can challenge the two Manchester clubs for the title.
He added: "I think in this moment there are three clubs - City, [Manchester] United and Tottenham who can win the title.
"After that, maybe Chelsea because things can change in the next four or five games. But I think to recover 10, 11 points on three teams is difficult.
"I think Tottenham are one of the best teams in the Barclays Premier League, like Arsenal, like Chelsea. They are a strong team."
Thrashing
City thrashed Tottenham 5-1 at White Hart Lane in August; however Mancini knows that this will be a very different tie.
We played five months ago. It was totally different, it was their second match.
"When you start the season anything can happen because maybe all the squad are not ready to play 100%. You maybe need four, five or six games to be confident.
"Now it is different and I think Tottenham are one of the best teams.
"They have 20-22 international players, and they are not all young players. For me they can win the title.
"It is better to lose one time 5-1 than five times 1-0.
"You can take one bad day when you concede three, four or five goals - it can happen. It happened to United, to Arsenal."