Mancini clashes with Redknapp
Harry Redknapp and Roberto Mancini have become embroiled in a war of words ahead of the clash between Man City and Tottenham.
By Rob Parrish - Follow me on Twitter @skysportsrobp
Last Updated: 21/01/12 5:09pm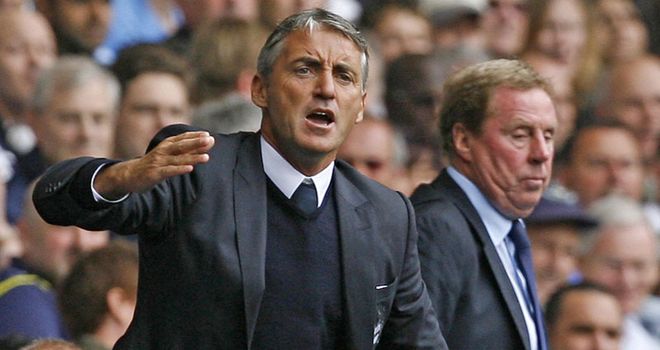 Harry Redknapp and Roberto Mancini have become embroiled in a war of words ahead of the crucial meeting between Manchester City and Tottenham on Sunday.
The Spurs boss has accused his Etihad Stadium of buying his way to success, with Mancini able to lavish vast sums on transfer fees and wages due to the financial backing of owner Sheikh Mansour.
City currently sit top of the Premier League table ahead of their clash with Redknapp's side, who are five points adrift in third place.
The White Hart Lane outfit have certainly been busy themselves in the transfer market in recent years, but Redknapp feels the spending power afforded to his rival gives City a huge advantage.
Not rocket science
He said: "If I could go and buy Carlos Tevez today - you ain't got to be a genius really have you? You guys follow football. You sit there and watch Spanish football. When people started talking last year about Tottenham bidding for Sergio Aguero I thought 'What a load of nonsense'. How can we afford Aguero? We aren't going to pay £250,000 a week to a player, it's not possible.
"Daniel (Levy) runs this club as it should be run. He is not going to put it in debt like that, it can't happen here. When you can buy players like that (Aguero) you have got a chance, haven't you? Same as when Chelsea started breaking the bank and buying all the top players at that time."
Singling out a member of the press, Redknapp added: "I'd fancy you to manage them. You'd have a chance, wouldn't you?
"It is not rocket science, this game. Good players give you a chance. If you have not got good players you don't have a chance, I don't care who you are. I might be knocking my own job or whatever but if I have not got Gareth Bale, I am not half as clever.
"I'm one of the lucky ones. I'm sitting in the top six. I'm no cleverer than Roberto Martinez. He's probably cleverer than me. He's sitting at the bottom of the league because he hasn't got the players. He can't afford to buy the players."
Borrow
But Mancini was quick to defend his transfer dealings, and offered a barbed response to his rival which is sure to increase the tension between the two clubs ahead of Sunday's showdown.
The Italian responded: "Harry can borrow money from us if he does not have it. If you have a chance to buy good players - you do.
"We have spent in two years to catch up, were we meant to take 10? For Spurs or Manchester United it's different. When you're always at the top you only change two or three players every year."