Mario agent cools exit talk
Mario Balotelli's agent has moved to clarify comments over taking him away from Man City, insisting he is not looking to leave.
By Rachel Griffiths - Follow me on Twitter @SkySportsRachG
Last Updated: 25/01/12 7:54am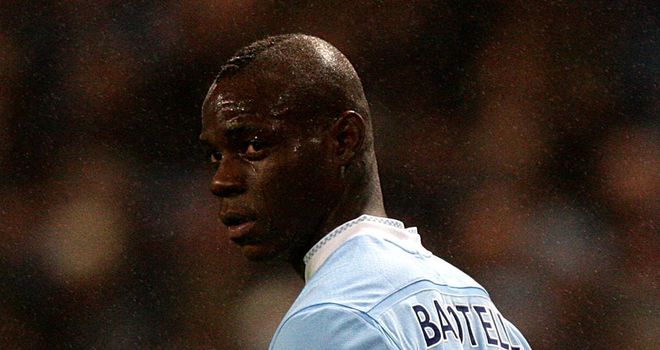 Mario Balotelli's agent has moved to clarify his comments over taking the striker away from Manchester City, insisting he is not looking to leave the club.
Balotelli has been hit with a Football Association charge of violent conduct following an apparent stamp on Tottenham's Scott Parker during Sunday's 3-2 win and is facing a four-match ban.
His agent, Mino Raiola, told the Italian media earlier on Tuesday he would be prepared to pull the 21-year-old out of the club if he thought he was being persecuted.
But, speaking to Sky Sports, Raiola played down talk of a January exit, insisting the controversial Italian is happy at City.
Staying
"We are not looking at all to move - not this year and not next year," he said. "We have the idea with Mario that he wants to stay in the Premier League for a long time.
"For sure not this transfer window. It's not our intention, let that be clear, we don't want to leave.
"The club is fantastic and Mario loves it. He's starting to really feel at home.
"So (the FA charge) comes at a very bad time. But if every week some referee wants to get at Mario then maybe we'll have to say that's enough and maybe have to try our luck in another country."
City assistant boss David Platt has hinted the club may accept Balotelli's ban rather than appeal and that is also Raiola's feeling.
"I cannot talk for the club but my understanding is they're afraid of extending his suspension and they'd rather leave it like this," he added.
"That's what my feeling is. I think the club still has time to think about it. It's up to them but if it were up to us we would appeal."
Raiola reiterated his disbelief at referee Howard Webb's insistence he did not see the incident having previously called for the official to be "banned for life".
He added: "Can somebody explain to me what Mr Webb is looking at? Because he's clearly looking at something.
"He's clearly not more than one, one and a half metres away from it. The question that everyone is asking, at least me and Mario, is what is he looking at? And what did he see? Frankly we don't believe that he didn't see it.
Judged
"If Mr Webb went to Mario afterwards and said there was nothing, why has he said in his report that he didn't see it, to leave space for other people to judge?
"He feels that he's been judged more harshly than the rest by the referee.
"Why? That's another question. You should ask the people that judge him. Maybe they don't like him. That's not for me to say. It's clear that whatever he does, maybe other people get away with it and he doesn't get away with it."