Tevez paying the price
Manchester City chairman Khaldoon Al Mubarak has announced AC Milan are 'not an option' in the ongoing Carlos Tevez transfer saga.
Last Updated: 24/01/12 11:12pm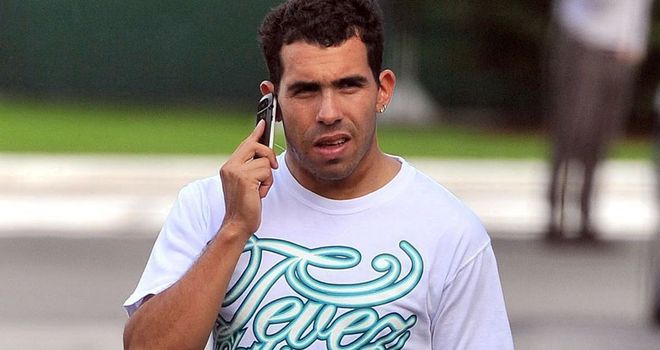 Manchester City chairman Khaldoon Al Mubarak has announced AC Milan are 'not an option' in the ongoing Carlos Tevez transfer saga and insists the Argentine will not be sold unless a reported £30million-plus valuation is met.
Defending Serie A champions AC Milan had earlier in January agreed terms with the Argentine over his potential move, but could not settle on a fee with City despite the Italian club's vice president, Adriano Galliani, travelling to London for talks.
Tevez, who has not played since the end of September, was also a target for Inter Milan and Paris Saint Germain, but the 27-year-old is understood to prefer a move to AC Milan and his representatives have long been in talks with San Siro officials.
But in an unprecedented move, Khaldoon has spoken publicly about a City player to make it clear in no uncertain terms that he will not be forced into a sale and has made it clear he is not happy with AC Milan's conduct.
"As things stand AC Milan isn't an option for Carlos Tevez," Al Mubarak told The National.
"Mr Galliani and his advisers have developed a misplaced sense of confidence from their premature discussions with Carlos and his advisers.
"If they want to be a consideration in this transfer window they would do better to stop congratulating one another and begin to look at how they would meet our terms."
Verdict
Tevez is presently in Argentina, having returned to South America on 7th November, two weeks after he was fined a fortnight's wages for his failure to warm up during City's UEFA Champions League defeat to Bayern Munich in September, which had been six before it was reduced on appeal.
It now transpires City stopped paying wages estimated at £200,000-a-week at the end of November and also fined Tevez six weeks' wages for gross misconduct over his refusal to return.
That fine is currently the subject of an appeal to the Premier League as Tevez's initial challenge was rejected by Blues directors Marty Edelman and Mohamed al-Mazrouei on 7th January. A final verdict is expected by the end of January.
However, as Tevez - who PSG have said is too expensive - also forfeited £6million in loyalty bonuses prior to the Bayern episode at the Allianz Arena due to his previous requests to leave City, his dispute with the Premier League leaders has now cost him the quite staggering sum of £9.3m.
Evidently, though, the dispute has turned into a matter of principle for City's mega-rich owner Sheikh Mansour.
In the context of a venture that has so far cost in excess of £1billion, the difference between €25million and the £25million fee, plus add-ons, that City want is minuscule.
Syndrome
But, in a welcome attack on the player-power syndrome, Sheikh Mansour has decided he will not budge on this matter, even if it means Tevez remains a City player when the transfer window closes on 31st January.
In that circumstance, should Tevez still not return, the Blues will explore every legal avenue possible before determining their next course of action, which could include another fine, or even an attempt to regain lost revenue on a player for whom they accepted a £44million bid for from Brazilian outfit Corinthians.
Although it appears highly unlikely, Tevez could also return to training with the club he is currently contracted to as it appears Galliani and his Milan colleagues have left Khaldoon unimpressed.
"Carlos remains a player with contractual obligations to Manchester City for the next two-and-a-half seasons," said Khaldoon.
"Unless we receive an offer that we deem appropriate, the terms of his contract will be enforced.
"Inter Milan and Paris St Germain approached discussions with us in good faith and it is always a positive experience to deal with people with a professional approach."