De Rossi signs new Roma deal
Roma midfielder Daniele De Rossi has admitted he contemplating leaving the club before signing a new five-year deal.
Last Updated: 06/02/12 1:46pm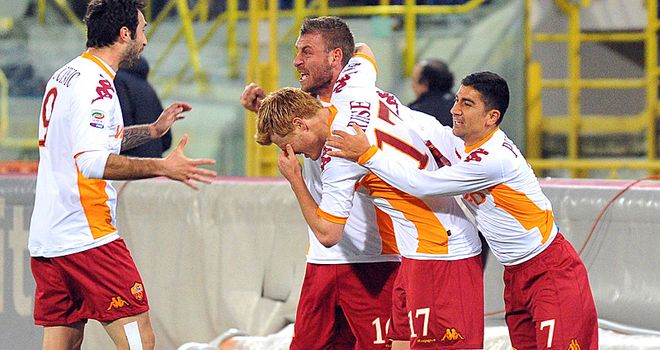 Roma midfielder Daniele De Rossi has admitted he contemplating leaving the club before signing a new five-year deal.
The 28-year-old's future has been the subject of discussion for months but that was finally quelled after he committed his future to the Romans.
Manchester City had apparently been one of the prime candidates to take him if he opted to leave Serie A.
And while the Italy international reveals the thought of playing abroad did appeal to him, it was the love of the Roma fans that persuaded him to stay.
"What drives me to stay here, to do my job with so much passion is this team, this city and its people," siad De Rossi.
"What I desire is here. The negotiations have been lengthy and I cannot deny that I had doubts.
Alternatives
"I thought of many things, of alternatives and I spoke to many people during this time.I wanted to stay only if I was welcomed by the fans.
"Last year I saw the love from the fans towards me diminish and the fact that some of them questioned my strength as a player made me think of seeking alternatives."
He added: "There was also the thought of ambition, the idea of playing somewhere else, to face the top teams in the world, not that we don't have that possibility here.
"Those things fascinated me and I did speak to other clubs. I was very tempted to see if I had the strength to play elsewhere.
"But in the end I made a choice not just of the heart but of the head.I have not remained here just to be a tourist in Rome and see the Coliseum. I believe a lot in this new project."
Roma, who were bought by an American consortium headed by Thomas DiBenedetto last year to become the first Serie A club to be foreign owned, appointed Spaniard Luis Enrique as coach last summer.
Agreement
"There is a positive atmosphere in the club," he continued.
"It's a new beginning although I don't forget the past. Although my love for Roma goes beyond coaches and executives, for me Luis Enrique's arrival has been crucial.
"He has re-ignited the spark that each player needs. He is the coach that has made me feel great in all of my life. I am in complete agreement with all of his decisions."
De Rossi, who has played all of his career for Roma, has seen his wages increase to up to 10 million euros per year, 5.5m net and a further 4.5m in bonuses and endorsements.
Roma general director Franco Baldini confirmed no buy-out clause had been included in De Rossi's new deal.
"No buy-out clause has been set in the contract," Baldini said. "Roma has an agreement with the player to own 50% of his image rights."