Mancini silent on Tevez
Roberto Mancini has refused to comment on whether he has met with Carlos Tevez since the striker returned to Manchester City.
Last Updated: 21/02/12 6:22pm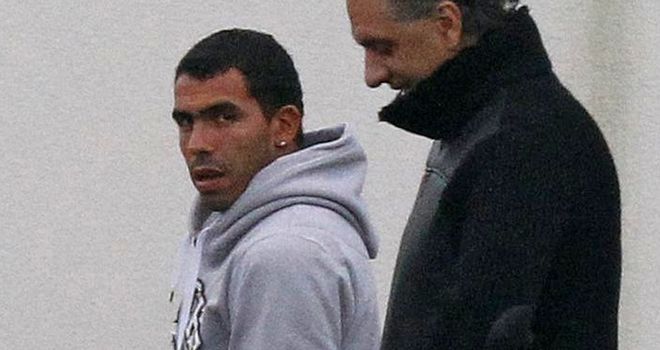 Roberto Mancini has refused to comment on whether he has met with Carlos Tevez after Samir Nasri expressed his belief that the striker can still be an important player for Manchester City.
Tevez returned to training with City last week after spending over three months back in his native Argentina and he has not played for the club since September.
Mancini has previously suggested that the 28-year-old will not be welcomed back fully into the City fold until he apologises following his refusal to warm-up during a UEFA Champions League tie away to Bayern Munich.
He is currently working on his own fitness programme and did not meet Mancini before the Italian flew to Portugal for last week's Europa League clash with Porto.
And, ahead of the return meeting with Porto at the Etihad Stadium on Wednesday evening, Mancini declined to comment on whether he has met with Tevez.
He said: "I am here to talk about Porto."
When asked further if there would be a meeting with the striker, he said: "There is a meeting tomorrow - against Porto."
Quality
Tevez failed to secure a move away from City during the January transfer window and, prior to his return to the club, he caused further controversy by claiming Mancini treated him "like a dog" in a TV interview.
Mancini last week denied he ever treated Tevez badly and said he would not speak about the player for the next three months.
City midfielder Nasri hopes the situation can be resolved and Tevez can rejoin the push for the Premier League and Europa League titles.
The Frenchman said: "I didn't speak to Carlos.
"I think he is an important player for us and for every team in Europe, because he has quality.
"I don't know what happened. If he has to apologise, then he has to do it and then he will be in the squad, because we need players of his quality to win the league and the Europa League.
"After that it is for the club and Carlos to deal with."