City not setting points target
First-team coach David Platt insists Man City have not set themselves a points target as they look to shrug off Man Utd in the title race.
Last Updated: 02/03/12 8:19am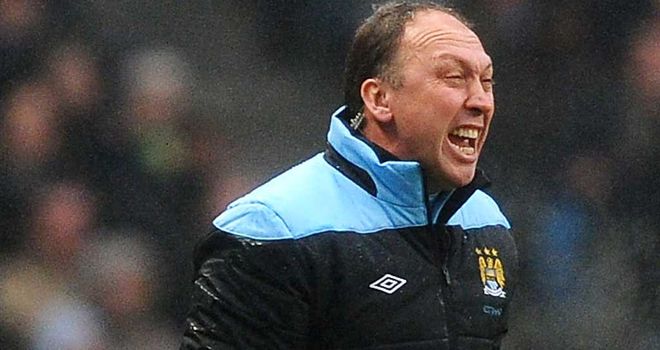 First-team coach David Platt insists Manchester City have not set themselves a points target as they look to shrug off Manchester United in the Premier League title race.
Platt believes City's aim in the closing months of the season is simple enough - to win as many games as possible.
City hold a two-point lead over United at the top of the table with 12 games remaining.
No target
When asked if he and manager Roberto Mancini had set a specific target, Platt said: "No. How can we do that? We could turn around and say we need x, but x might not be enough.
"We just go into every football match looking to get the points and we will see where it takes us."
With United not in action until Sunday, City have the chance to extend their lead as they take on struggling Bolton at the Etihad Stadium on Saturday.
City were back to their free-flowing best as they overpowered Blackburn 3-0 last weekend.
It was a performance reminiscent of many which earned high praise in the autumn but Platt is not overly concerned about how results are obtained.
He said: "It counts for nothing unless you put the ball in the back of the net. That is what we have got to do.
"You can play all the beautiful football you want in front of teams but we have to, in the main, go and break teams down."
City are now close to full strength with midfield inspiration Yaya Toure back from the Africa Cup of Nations and striker Mario Balotelli having completed his domestic ban.
Former captain Carlos Tevez could even come back into the reckoning soon following the closure of his protracted dispute with the club.
City will juggle resources to try to ensure everyone remains fresh for the challenge.
Rotation
Platt said: "At the end of the day you will keep 11 happy, another seven slightly happy, and the others will be disappointed when they are not playing in a game.
"But, to be honest, that is part and parcel of football. It has been going on for ever and a day and will continue to.
"But we have a rotation of the squad, we move it around. We try to do that when we have a full complement of players, to keep everyone nice and healthy."