Mancini targets record haul
Roberto Mancini believes it might take a record points haul for Man City to shake off United in the Premier League title race.
Last Updated: 10/03/12 3:07pm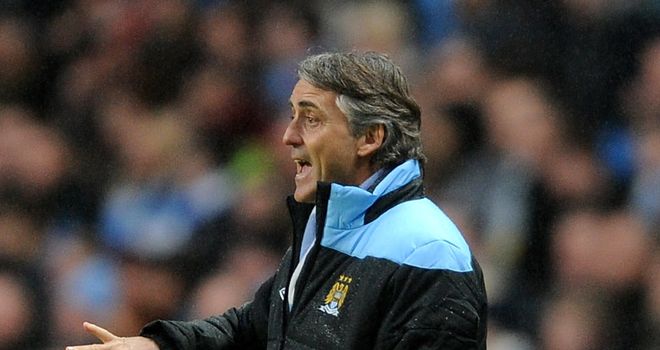 Roberto Mancini believes it might take a record points haul for Manchester City to shake off Manchester United in the Premier League title race.
City currently sit two points clear of their neighbours at the top of the table as they gear up for what looks likely to be a tight run-in to the season.
Mancini's men can finish with a maximum of 99 points if they win all 11 of their remaining games - one of which is against the Red Devils.
Record
That total would eclipse Chelsea's Premier League best of 95 and the City boss said: "If we get to 99 we will win. Sixty-six plus 33 is 99 - but I am not good at mathematics."
Mancini is not taking anything for granted against Swansea on Sunday, a side he hailed as one of the best, in terms of playing style, in the Premier League earlier this season.
He has not changed his opinion, adding: "It will be a tricky game because Swansea play very well at football. We will need to play well if we want to win there.
"I can say they are one of the best teams that play football.
"I think every game from now until the end will be problematic because we play teams playing against relegation, playing for the Champions League or the title.
"Swansea at home are fantastic, they are having a good season but we want to continue winning."
Impressed
Mancini has indicated striker Mario Balotelli, who was fined a week's wages for breaking a club curfew last week, could start at the Liberty Stadium.
Balotelli impressed as a late substitute in Lisbon and there is a feeling the 21-year-old could be given the chance to repay the backing Mancini has given him over a series of misdemeanours.
When asked about this, Mancini said: "I hope so, but also last Saturday against Bolton he played well and scored a goal."
When asked further if Balotelli could start every remaining league game, Mancini said: "Yes, he can."