De Jong - Silverware a must
Nigel de Jong admits that Manchester City cannot accept a season without a trophy.
Last Updated: 15/03/12 10:58am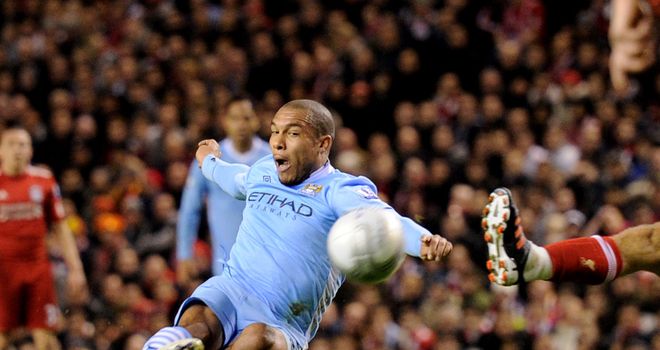 Nigel de Jong admits that Manchester City cannot accept a season without a trophy.
City have dropped from the top of the Premier League after rivals Manchester United leap-frogged them at the weekend.
De Jong admits that, to miss out on the title now or even finish the season empty-handed, would be a major blow.
City's only other prospect of silverware is in the Europa League but they must overturn a 1-0 deficit as they meet Sporting Lisbon in the second leg of their last-16 tie at the Etihad Stadium on Thursday.
De Jong said: "We always said at the beginning of the season we wanted to
compete to win as many competitions as we can.
"We have come so far and we have just got to fight and concentrate until the end.
"Our main goal is the Premier League, that doesn't change, but we're still in the Europa League and the only way we can succeed this season is to win one of the prizes.
"After we won the FA Cup, everybody is hungry for more.
"We brought players in to make the squad bigger and stronger. You can't have any excuses at the end of the day."
Tevez
Meanwhile, De Jong has admitted he is one of those looking forward to seeing Carlos Tevez return to action.
Manager Roberto Mancini is considering recalling the controversial striker for next Wednesday's clash against Chelsea.
"Everybody is keen," said De Jong.
"Of course he had some difficulties with the club but he is here now and we like to look to the future instead of the past. Nobody ever doubted his qualities."
Tevez cannot play on Thursday as he is not registered for the Europa League while captain Vincent Kompany remains sidelined and fellow defender Joleon Lescott is doubtful.
De Jong said: "Sporting deserved their 1-0 victory at home but you have two games to get into the next round.
"If we want to go through, we need to win - it's that simple and we're
confident we can do that."