Vieira - United get home help
Patrick Vieira has offered another opinion on Man Utd by suggesting they receive preferential treatment from referees at Old Trafford.
Last Updated: 28/03/12 10:29pm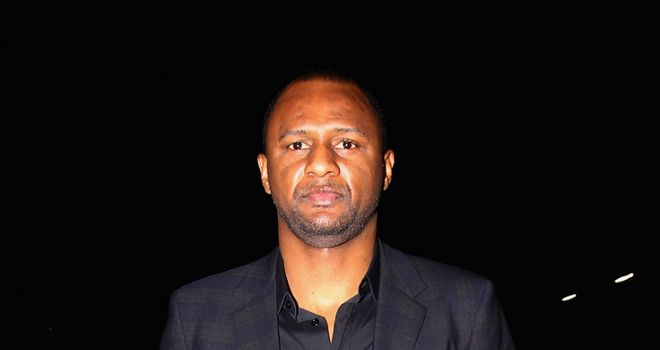 Patrick Vieira has offered another opinion on Manchester United by suggesting they receive preferential treatment from referees at Old Trafford.
Manchester City's title tussle with United looks set to go down to the wire and last week the war of words between the clubs stepped up a notch following comments made by Vieira about Paul Scholes.
The Frenchman, City's football development executive, said that United should be worried about their future as the decision to bring back Paul Scholes showed weakness.
That claim brought a stinging response from Sir Alex Ferguson, who argued that Roberto Mancini was the desperate one for choosing to select Carlos Tevez, a player the City manager previously stated would never appear for the club again.
The Scot also stated that he had "plenty of ammunition" if City wanted to engage in any kind of mind games.
Vieira has now come back by laying down his belief that United get preferential treatment from officials, in the wake of Michael Oliver's refusal to give Fulham a last-minute penalty at Old Trafford on Monday evening that could have denied the Red Devils two crucial points.
Vieira feels that the most successful teams in Europe all enjoy the same sort of advantage and he has urged City to make sure they reach such a lofty standing.
"When United play at home they get some advantage that other teams don't get," Vieira said.
"When you go to United, Madrid, Barcelona, or Milan, it's always difficult for the referee to go against these kind of teams.
"This is the way it is. It's something the teams who are used to winning get all the time, so we need to win games so we have this advantage in the future."
Our moment
United's victory over Fulham took them three points clear at the top of the table but Vieira is refusing to give up and remains bullish about City's title chances.
Speaking at the Soccerex conference in Manchester on behalf of Football Against Hunger, he said: "This is our moment. Since the start of the season we've been the best team and played the best football.
"I believe the club deserves it."
However, Vieira also conceded United are in pole position to claim a second successive title.
"When you are first you have the advantage, they are favourites," he said.
"It's important not to lose focus, so many things can happen.
"People try to build this fire between the clubs. The heat is going to get more and more."