Aguero could face Gunners
Manchester City striker Sergio Aguero hopes to be fit to face Arsenal on Sunday and has attempted to explain his foot injury.
Last Updated: 04/04/12 8:10pm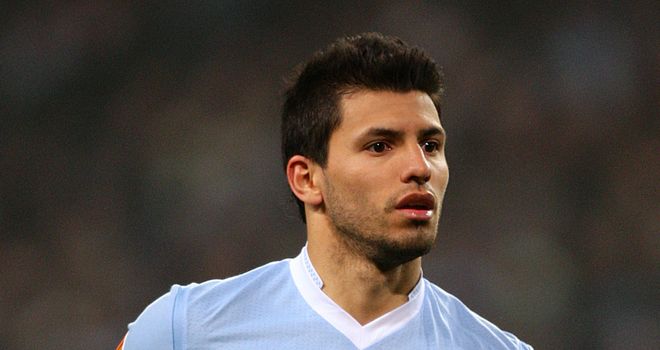 Manchester City striker Sergio Aguero has rubbished several of the unusual theories behind his foot injury and he hopes to be fit to face Arsenal on Sunday.
Last week, Blues manager Roberto Mancini said Aguero would miss the Premier League encounter with Sunderland after picking up what he said was a 'stupid' injury.
It subsequently transpired Aguero had a swollen foot, which had reacted badly to a spray applied to treat an injury.
How Aguero got the initial injury was the subject of numerous claims, including one that he had fallen off his son's motocross bike and another that he had tripped down the steps of the team bus.
That City's £38million record signing missed the draws against Stoke and Sunderland which mean the club are now five points adrift of title favourites Manchester United just made the situation even worse.
However, Aguero insists there is less to the injury than some have tried to claim, as he said on his official website: "During the match against Chelsea, I injured my ankle and it was sprayed with a topical anaesthetic that caused a burn on the upper part of my right foot.
'Incredible rumours'
"The injury worsened after a few days and when boils appeared I was told I wouldn't play against Stoke and then against Sunderland.
"You can imagine how I felt, being out of playing condition when my team is trying to take the championship. It's always worse from the bench.
"After that I started receiving incredible rumours about how it all happened.
"I know my life is very public and I'm willing to take criticism even if I disagree with it. But I will not sit quietly while lies are being spread - even more so if they cast doubt upon my professionalism.
"This is a simple injury and not a plot of intrigue."
Yet, however Aguero received the injury, his absence has been keenly felt.
Title fight
Of Mancini's other striking options, Edin Dzeko is presently in a poor run of form, Mario Balotelli's increasing erratic behaviour is casting a shadow over the club and Carlos Tevez has not appeared fully fit since returning to the fold.
And now City have reached the point of no return, knowing that unless they beat Arsenal at the Emirates on Sunday any remaining hopes of winning the title will surely have evaporated.
Aguero is desperate to be fit. And he insists this is not the time to start pondering what might have been.
"It's hard to believe it happened while we are fighting for the title," he said of his injury. "This is the real status of my injury. I got back from practice today and it's not bothering me.
"If it all goes well, I'll be at coach's disposal next Sunday.
"This is no time for moping. I've said it before and I'll say it again - we are going to fight until the end. That's our collective goal and I'm fully committed to it."