Fergie - United have unity
Sir Alex Ferguson is confident Man Utd's title challenge will not falter because of a lack of unity or any on-pitch rows between his players.
Last Updated: 08/04/12 10:05am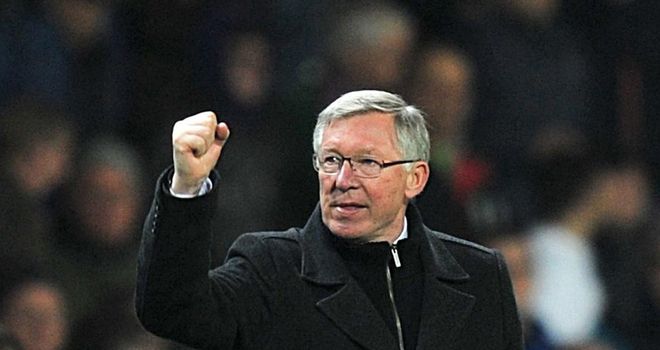 Sir Alex Ferguson is confident Manchester United's title challenge will not falter because of a lack of unity or any on-pitch rows between his players.
United have opened up a five-point lead at the top of the table after overhauling local rivals Manchester City, who have endured rumours of discontent within the squad.
Aleksandar Kolarov and Mario Balotelli exchanged words during last weekend's 3-3 draw with Sunderland while there have also been reports, which were subsequently denied, that the Italian striker had rowed with Yaya Toure in the dressing room.
However, while Ferguson admits his own United players have argued with each other in the past, he pointed to an underlying unity within his ranks.
Demeanour
"I wouldn't allow it but it can happen at moments in a game," said Ferguson. "Peter Schmeichel used to have a go at Steve Bruce and Gary Pallister and they'd give it back. Roy Keane used to do it.
"There's a difference, though, a distinction there. The general demeanour of a team is more important.
"The general atmosphere when a team scores a goal. That's how you judge it.
"You need unity if a team is going to win the league. Teams are about unity, we have got experience of that.
"Rio Ferdinand, Patrice Evra, Paul Scholes and Ryan Giggs can ensure that's the case. Young players in the dressing room can look at how they have lasted so long, they are great examples.
"We take unity for granted here. We expect it but it doesn't happen everywhere."
Ferguson's City counterpart Roberto Mancini admits that his own club can learn from United when it comes to dealing with certain issues.
Mancini said: "It is true that they keep any problems behind closed doors. I think we need to improve in this way, because the problems should always stay inside and you should resolve them.
"We have this problem with photographers at our training ground and we talked about this two years ago and didn't do anything about it.
"We need to improve this, we need to improve in different situations. We need people around the team who understand this."