Mancini turns down the pressure
Manchester City boss Roberto Mancini remains adamant Monday's derby with Manchester United is just 'one more game'.
Last Updated: 24/04/12 12:33pm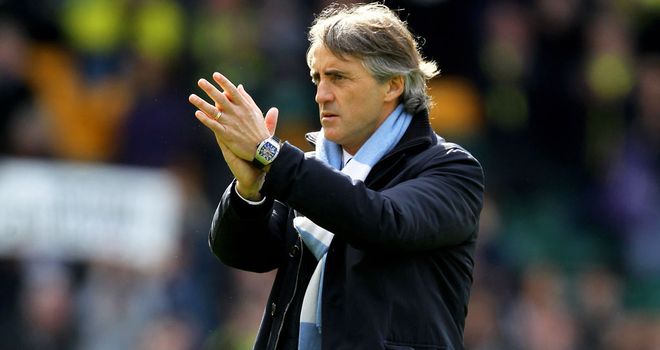 Manchester City boss Roberto Mancini remains adamant Monday's derby with Manchester United is just 'one more game' despite its apparent importance as a Premier League title decider.
In contrast to Sir Alex Ferguson, Mancini seems to be undermining the game, knowing City faltered in March and the beginning of April when the pressure for them to be champions was at its most intense.
And, though the prize is obvious - victory would put City top on goal difference with two games of the season remaining and in pole position to claim their first championship since 1968 - the Italian insists he is treating it as no more significant than any other.
"The derby is always the game of the year," he said. "For the supporters, a derby is always a different game to the others. It is important for the city.
"Manchester has two top teams who are in a position to play this important game.
Fight
"But for us, it will just be one more game, not because we fight for this or for that, and after it there are another two games, very tough games."
It will maintain a quite remarkable sequence of fixtures involving the two clubs over the past three seasons.
When Michael Owen slotted home the injury-time winner for United in 2009, it was billed as the sign-off to the best derby ever.
Then there was a Carling Cup semi-final which United won thanks to a Wayne Rooney goal in stoppage time.
Last season saw Rooney convert that jaw-dropping overhead kick at Old Trafford before City gained revenge by emerging triumphant in a pulsating FA Cup semi-final.
Fantastic
Three meetings this term have been equally memorable in their own way as United came from two goals down to clinch the Community Shield in August, and established a three-goal lead in the FA Cup before ending up holding on at the Etihad Stadium against a team that had already been reduced to 10 men.
And in between, there was that awesome 6-1 win for City at Old Trafford, something Mancini does not expect to be repeated in his lifetime.
"The one at Old Trafford was a fantastic derby," said Mancini. "But it was a game that can happen only once every hundred years."
If there was any need to reinforce why Mancini was adopting his present stance, it came through the knowledge that City did not perform at their best against Wolves on Sunday having absorbed the enormity of what lay ahead.
Even owner Sheikh Mansour seems to have got in on the act with his rare public utterance that he regards this season as a success, no matter how the final three weeks work out.
And Mancini is happy to endorse that view, as he said: "We are happy to be where we are.
"We already have 10 more points than we got last year, and I am happy that we can finish the season well."