Kompany 'buzzing' after win
Vincent Kompany was 'buzzing' after he scored the winning goal at the Etihad Stadium as Manchester City beat Manchester United 1-0.
By William Esler
Last Updated: 01/05/12 7:30am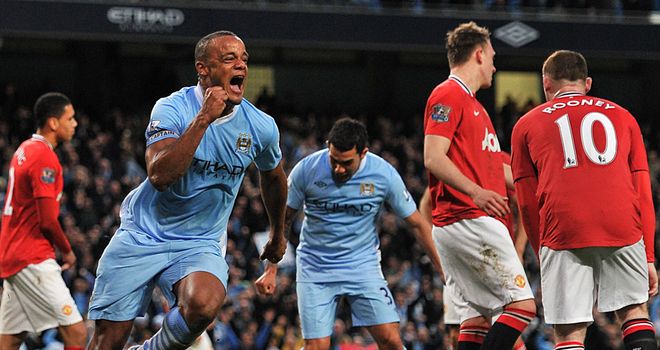 Vincent Kompany was "buzzing" after he scored the winning goal at the Etihad Stadium as Manchester City beat Manchester United 1-0.
The result moved City back to the top of the table on goal difference, with just two games remaining.
The defender was delighted by the result, but knows that the title race is not over yet.
"Absolutely buzzing. We had to work for it. We've been waiting for this moment but it's far from over, we know that," he told Sky Sports.
"But to give our fans two wins over Manchester United this season, we have to finish it off and we have to show it in the next two games."
It was the defender's first goal against Manchester United in nine appearances and he admits he was surprised to get on the score sheet, adding: "I remember someone texting me today and saying I was going to score and I thought he was a lunatic."
Team-work
Kompany picked up the Man of the Match award, but was keen to downplay his role in the victory.
"This victory goes out to the whole team," he said.
"The performance was great today. I've heard I'm going to pick up Man of the Match but for me it's other players and there were so many great performances and I'm happy for them.
"The chairman came in and had a word with the players and said it doesn't matter what result you have today we're proud of you guys. You've been incredible this season and we feel that we are building for the future, so for us to get this result is a bonus."
Untested
Joe Hart was untested in the Manchester City goal as United failed to register a shot on target in a league game for the first time since 2009.
But he admits he went into the game with some trepidation as no-one could avoid the build-up to the game.
"I think you could feel it. Everyone could feel it. There has been a lot of build-up to this for weeks and weeks and weeks outside of the team, but we've concentrated on what we have to do," said Hart.
"We've not been great sometimes but we're on a good run at the moment and we played a very good side there and beat them.
"I think everyone was nervous. They are a good side and fire balls in.
"But when you've got Kompany, and Joleon (Lescott) and Zaba (Pablo Zabaleta) and (Gael) Clichy and Micah (Richards) came on, they are brilliant and I always feel comfortable."
Focus
Despite going back to the top of the table, Hart was cautious about any talk of winning the title.
He added: "It doesn't change how we feel and how we go into every game. It's great to win tonight, but Newcastle is now our focus and they are really pumping themselves up in the league.
"The game at St James' Park is going to be tough. They have great support there but hopefully we can push on and get one game closer."