Ronaldo - Jose is best
Real Madrid superstar Cristiano Ronaldo insists that Bernabeu boss Jose Mourinho is the greatest coach in the world.
Last Updated: 18/05/12 8:11am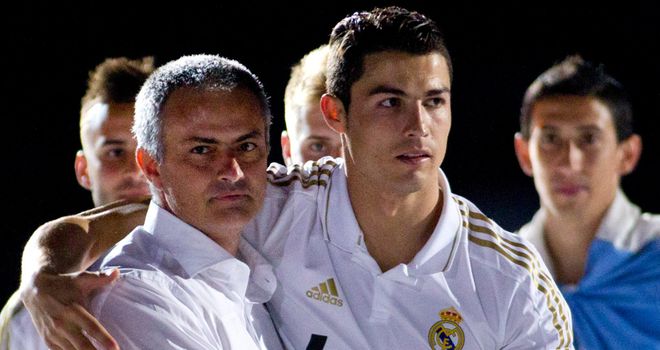 Cristiano Ronaldo insists that Jose Mourinho is the greatest coach in the world.
The Real Madrid superstar has heaped praise on his Bernabeu boss, who guided them to the Spanish title this term ahead of Barcelona.
And although Ronaldo is full of praise for his former manager Sir Alex Fergsuon, he insists that his fellow countryman Mourinho is the best.
"I am playing with the best coach in the world," he told Sky Sports News HD.
"I am around great players, a fantastic coach and it is great, when you play around great players it is easier."
Second father
Ronaldo also admitted he still had a lot of time for Ferguson, who guided him through his formative years at Manchester United after moving from Sporting Lisbon.
"In the beginning Sir Alex he was a second father to me, he taught me many things, it was a different country at 18 and I am very glad for that, but I carry on my career and my life," he said.
Ronaldo admits that he lost money when Manchester City beat United to the Premier League title, but he insists his old club are still the top side in England.
"I saw the last goals in the last minutes, I did [have] a bet that Man United would win the league so I lost, and I am disappointed as they are still part of my heart," he said.
"City have fantastic team but I think Manchester [United], they will continue as the king of England."