Aguero avoids serious injury
Man City have received a boost after it was confirmed Sergio Aguero is set to return from injury following September's international break.
Last Updated: 23/08/12 8:05am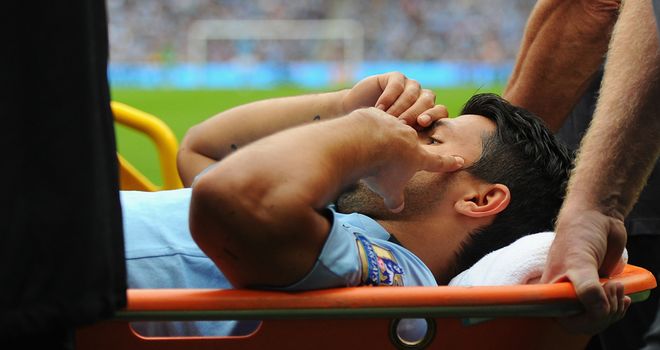 Manchester City have received a major boost after it was confirmed Sergio Aguero is expected to return from injury following September's international break.
The Argentina international was stretchered off in the early stages of Sunday's 3-2 home win over Southampton after suffering a heavy blow to his knee and it was feared he could be facing six months on the sidelines.
But Aguero earlier this week moved to calm fears the injury was a serious one amid speculation he had suffered ligament damage.
The striker will miss Sunday's trip to Liverpool and the following Premier League game against Queens Park Rangers, however, manager Roberto Mancini expects the South American to return after the international break to face Stoke City on 15th September.
Aguero's return will carry the extra advantage as a few days later Premier League title-winners City will begin their UEFA Champions League group stage campaign.
Relief
"I don't think Sergio will be out for long and we are hoping he will be back after the international break which is obviously fantastic news for him and for us," Mancini told City's official website.
"We were very worried a couple of days ago because we feared he could be out for six months or maybe even more which would have been very bad news
"It looked like a very strange injury at the time and because it was his knee, we were obviously very concerned so this news is a relief for everybody."
Mancini also has positive news on other injured stars Gareth Barry and Micah Richards, who could both be back in action sooner than expected from a respective hernia operation and ankle problem.
"Gareth will also be ready after the international break," said the City boss. "He hasn't played any games for almost four months and he needs to build his fitness up, but he is training again and I don't see him being out for any longer than one month and hopefully, maybe just a couple of weeks.
"Micah's injury is more serious and he could be out a little longer, but having said that, with rest and the right treatment, we are hopeful he could be ready in about one month, which again would be great news."