Changing times
Patrick Vieira speaks exclusively to Sky Sports on Man City's NextGen commitments and youth football.
By Peter Fraser - Follow me on Twitter @SkySportsPeteF
Last Updated: 19/09/12 4:50pm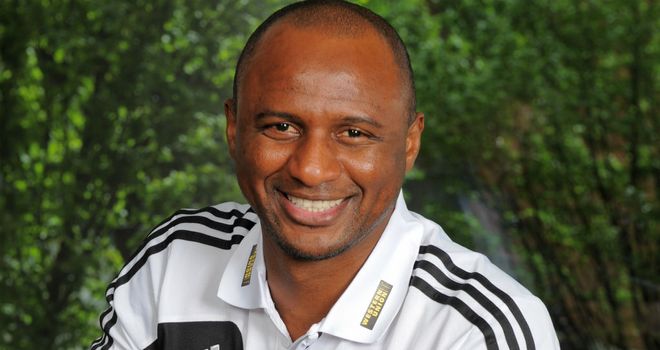 When the UEFA Champions League group stage returns this week, young footballers from around the world will be watching the likes of Lionel Messi and Cristiano Ronaldo and wishing to one day reach such heights.
In the past, Academy players' dreams have often been crushed. Their route to the first team of top clubs can be blocked by expensive signings. But the times are changing. Football is shifting with the economic global recession and the social and culture factors which are impacting the entire world.
A major and obvious influence upon football is UEFA's forthcoming Financial Fair Play (FFP) rulings, which will in theory force clubs to live within their means by spending less than they earn while also limiting player salaries.
Premier League champions Manchester City, whose Sheikh Mansour-funded summer 2012 transfer window fees alone were just less than an estimated £50million, are no doubt the type of operators who will be at the front of the minds of FFP regulators. In 2010/11, City announced record-breaking losses of almost £200m.
As a consequence, a change of tact has been occurring. Clubs know they need to become self-reliant and youth players are the future. Away from the glamour of Tuesday's Champions League opener at Ronaldo's Real Madrid, City have started construction work on the £100m-plus 80-acre Etihad Campus, which will include the City Football Academy among a variety of cutting-edge facilities. It is due to open for the 2014/15 pre-season.
There has also become an increased focus on The NextGen Series, an international Under-18 tournament following a similar format to the Champions League, in the hope the experience of such competition will aid the development of promising teenage talent.
In the second season of NextGen, City are in Group 2, along with Juventus, Fenerbahce and, ironically, fellow mega-spenders Paris St Germain. Attilio Lombardo's side have so far lost to PSG and defeated Fenerbahce but the emphasis is on youth development over results.
Philosophy
"Financial Fair Play is one thing and the other is the philosophy of the football club - what you want your club to be and where you want your club to be in the next 10 years," City's football development executive, Patrick Vieira, explained to Sky Sports in an exclusive interview at a Manchester city centre hotel when discussing youth football and NextGen. "One of the things we want to do at this football club is bring young players through the Academy and play for the first team. We are talking that the project could take 15 or 10 years to see the product.
"I believe the NextGen is going to be a really important competition for the club. We want to bring on young talent. The experience they have in NextGen is fantastic, because they are travelling like the first team. They are going the day before a game. They are playing against the best teams in Europe, so it is good for them to compare themselves."
PSG will be another club who feature high on the list of FFP officials. The French outfit spent a staggering £127m this summer to bring in the likes of Gregory van der Wiel, Thiago Silva, Lucas Moura, Ezequiel Lavezzi and Zlatan Ibrahimovic.
For Senegal-born-but-France-raised Vieira, PSG have always been a club of interest. After spending his childhood close to Paris, as with several other players in France's famous 1998 World Cup and 2000 European Championship-winning squads, the former Arsenal, Juventus, Inter Milan and City midfielder never played for PSG.
"What is strange is that there are so many players coming from Paris but never playing for Paris St Germain," said Vieira. "That meant that something is wrong in there. I grew up around Paris and I never played for Paris St Germain.
"Last time we were in the national team, I cannot remember which year it was, but there was a group of players from around Paris. But the only one who played for Paris St Germain was Nicolas Anelka. So that means Paris St Germain were doing something wrong. But it looks like they are changing the vision of recruitment of young players from around Paris. There are so many good players."
Since he began his youth football career at FC Trappes, situated in the western suburbs of Paris, in the 1980s, Vieira acknowledges the sport has undergone a massive change. He thinks there is now an increased level of expectancy on young players to perform in a certain style and that could be a factor behind England's current lack of emerging stars.
Self-confidence
"I think there is more pressure on young talent than there used to be," explained the 36-year-old, who as part of his job looks to pass on his experience to City's Academy players. "One of the problems as well is maybe there is less expression of young talent when they are on the field.
"When you are 14 or 15, you are so good. Sometimes people make you play the way they want you to play. They are not telling players to go and enjoy themselves and express their talent. This is a balance which football clubs should try to find, because there are not enough players who play with flair.
"We are maybe losing these kinds of player. That is maybe one of the big issues in England. We do not have enough Wayne Rooney players, who have flair. There are too many players who have been dictated to in what they have to do and what they do not have to do."
Vieira continued: "When a player gets to the age of 18 or 19, they are so scared, they do not know what to do and you have lost them already. One of the big issues in England is to let young talent play football rather than, 'go left, go right, jump, kick the ball'. They know how to do that."
Whether or not City's devotion to a youth policy can reap benefits remains to be seen. The aim is to get back to the days of a once thriving Academy, which produced more than 35 first-team graduates, including Shaun Wright-Phillips and Micah Richards.
Vieira, though, maintains the idea that self-confidence, not to be confused with arrogance, and a determination and dedication to football is the key to success for fledgling players.
"When I was younger, there were players who had more talent than me but not half of the same desire as I had to be successful," he remembered. "You might not have talent like a Zinedine Zidane, Rooney, Messi or Ronaldo. But you may have what you need to be a footballer.
"You have to have the right balance between the attitude, the hard work and the commitment. I believe that can bring you success like myself and so many other players. I was not maybe the most talented player when I was growing up. Even if I was good, I was maybe not good enough to play in the French team. But the hard work and the dedication helped me to get past that lack of talent."
Patrick is an ambassador for Western Union's new PASS initiative, turning every pass in this season's UEFA Europa League into funding for one day's education for young people around the world