Manchester City boss Roberto Mancini - Solving a problem that doesn't exist?
Adam Bate looks at how Roberto Mancini, like Pep Guardiola before him, seems determined to tinker with his team.
By Adam Bate
Last Updated: 19/09/12 5:47pm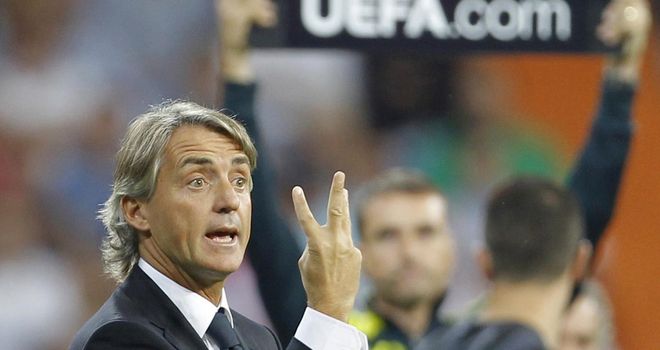 "Guardiola is clearly determined to prevent Barcelona ever becoming complacent or predictable, to make sure they always have a second line of attack," wrote Jonathan Wilson in the Guardian. "He does not simply write the same names on the team sheet and expect them to go out and do the same thing over and over again. He tinkers, revises and, like a watchful gardener, seems engaged in a constant battle against the entropic imperative."
It sounds marvellous. But Barca lost key games last season - notably surrendering their Primera Liga title in April by playing 3-4-3 in the home defeat to Real Madrid. Guardiola's side lacked any kind of cohesion in the Camp Nou that evening. And that's frustrating because much of the tinkering throughout the campaign was unnecessary.
Xavi Hernandez, Andres Iniesta and Sergio Busquets played an average of 50 club games each in the 2011-12 season. Guardiola could have kept the iconic midfield trio together but he chose not to with Iniesta regularly deployed in the front three. In fact, Guardiola fielded the team that wowed Wembley in the 2011 UEFA Champions League just once in the 16 months since - in a Super Cup triumph over Real.
Now it's Roberto Mancini doing the gardening at Manchester City, seemingly terrified of the weeds growing around his feet while he stands still. City are intent on adding the back-three to their armoury. The Premier League champions used the tactic occasionally as a defensive option last season and the Opta statistics indicate that the formation can hamper opposition that largely play variations of 4-3-3 or 4-4-2. Indeed, the stats show that across the top five leagues in Europe, 3-5-2 and 3-4-1-1 formations conceded the fewest goals.
But Mancini sees his switch to a back-three as a predominantly attacking move, as his assistant David Platt explains. "All pre-season we have played with an offensive back three," Platt told the Manchester Evening News. "We went to it last year a little bit to close games off, but what the manager has tried to work on all pre-season is the ability to be able to go to a back three if we want to, and be more offensive than defensive with it."
Coaches like to have options when they are sat on the bench feeling the pressure. And the feeling persists that City need something more if they are to make that next leap in order to become a powerful force in Europe. Mancini has justified his change by saying: "We tried a different solution because a top team needs to know different systems."
But it's curious how and when the City boss has chosen to utilise the formation so far this season. If the intention is to use it as an offensive weapon in order to find a new way past stubborn teams then the question is worth asking - were they really struggling to find a way through before? A home record of 18-1-0 in the Premier League suggests not.
If the motivation was to use it as an offensive tactic at all then it's surprising that the three games in which Mancini has gone with the formation this season have been against Chelsea, Liverpool and Real Madrid. The chief outcome right now appears to be confusion in the back-line caused by a pre-season of tactical disruption. After conceding an average of 0.76 goals per game in winning the Premier League crown, City are currently letting them in at a rate of 1.83 per game so far this season and are still waiting for their first clean sheet.
Tuesday's trip to the Bernabeu was particularly odd. In a sense, this could have been the moment for which Mancini had been preparing his team all summer. They had worked hard to improve their tactical flexibility and now the Italian felt the time was right to show he could outthink Jose Mourinho. So Aleksandr Kolarov replaced Samir Nasri and then, when Maicon was injured, on came Pablo Zabaleta with the versatile Argentine gesticulating that they would be playing a back-three for the dramatic finale.
And even then, as Michael Cox of the tactics website Zonal Marking explains, Mancini remained committed to using the formation in an attacking way. "Zabaleta could have sat deep alongside the centre-backs and kept that side of the pitch quiet," wrote Cox. "However, he interpreted the wing-back role in a strange way - charging forward up the pitch unnecessarily (when City were ahead) and also getting drawn into very central positions, leaving the right flank completely bare."
A tense finale in Madrid does not seem the most obvious time to turn to the experiment but Mancini is anxious not to appear obvious. He is determined to stay ahead of the curve. But when the challenge is a huge one - as it undoubtedly was on Tuesday - Vincent Kompany would have wanted to be drawing on all the experience he has gained in recent years, not finding himself dragged out to the left-wing to mark a player of Cristiano Ronaldo's ability.
Like Guardiola before him, Mancini has risked losing fluency in search of a pre-emptive strike. One step backwards to take two steps forwards? That's fine unless you lose your way after the first step.